After digital spike, cash gains currency in this neighbourhood
Nov 08, 2017 11:46 AM IST
Critics and the Opposition have labelled demonetisation as the largest money-laundering scheme that destroyed the economy and put people through months of hardship as they struggled for cash.
A year on, cash is king again.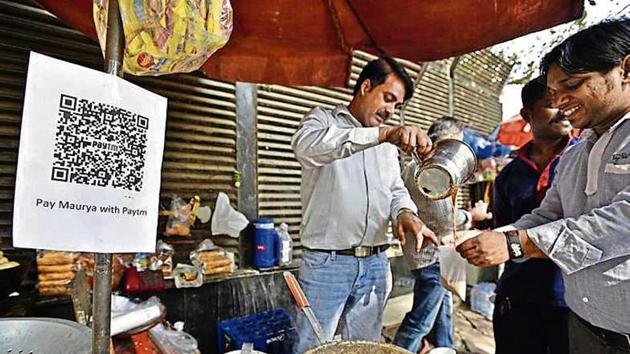 Rajesh Jain, a grocery shop owner in Delhi's Daryaganj had not heard of Paytm until November 8, 2016, the day Prime Minister Narendra Modi announced scrapping of 500-and 1,000-rupee notes.
Stay tuned with breaking news on HT Channel on Facebook.
Join Now
"Forget about electronic payments, he did not have a smartphone for the longest time," his son Prateek said. The undergraduate student at Delhi University helped his father open an account with the digital payments firm.
"We couldn't lose our customers and if it meant using Paytm, so be it. That is what I told myself," said Rajesh.
Jain's is one of the many mom and pop stores in the walled city that had not used e-wallets before the government's surprise decision removed 86% of the currency in circulation in one stroke.
Starved for cash, people did turn to digital payments but for a short while.
"We still accept payments through Paytm. But customers who switched to Paytm are back to cash. I believe it is a cultural thing," said Rajesh. "Except a few young boys, no one uses digital payments anymore."
Among other reasons, the government had pushed demonetisation as a means to foster a true digital economy in India.
Currency worth Rs 17.77 lakh crore was in circulation on November 8 2016. Post note ban, the currency in circulation was less by Rs 3.89 lakh crore, meeting the objective of a less-cash economy, finance minister Arun Jaitley said on Tuesday.
Digital could be the way forward but in Daryaganj cash is hard to let go off.
Jain's neighbour, Aabid Hussain, said his son was to get married four days after the two high-value notes were scrapped.
Hussain and his sons visited banks several time, braving serpentine queues, to withdraw money and got many items, including raw meat and spices, on credit.
Not once did they think of taking the digital route.
"We were worried how we would arrange everything. We wanted a simple way out and nothing complicated. E-wallets and digital payments sounded like a hindrance," said Hussain. "And see now, everyone is back to using cash."
Another reason why digital payments have not taken off in this part of Delhi is because 'udhaar', or credit, is the currency here.
In the days after demonetisation money was short, but not trust.
Within a week of the ban, Gopi Chand, also a grocer in the neighbourhood, started giving goods on credit to regular customers. The fact that their shop was in a closely knit neighbourhood, where people know each other, helped.
"We were doomed had we been living in one of those colonies where people remain isolated," said Chand, who runs the store with his son, Jitendra.
"We gave items worth thousands of rupees on credit. We knew they would give us the money when they would have it. And they did."
While the Chands went cashless, other grocers continued to accept banned notes, the family said.
"We used to send someone from our staff to deposit the notes. But that is alright, the entire country was standing in queues," said Chand's younger brother Vivek, who has a shop close by.
Given that a majority of people here are not well versed with technology, there were safety concerns.
"News channels keep showing people hacking into accounts. Why would you want unnecessary trouble? Cash is best. If not, use cheques," said Vivek.
Chand isn't sold to digital payments but he believed that demonetisation would weed out black money and hobble terror funding, as promised by the Prime Minister. He even asked his customers to support it.
A year on, Chand's assessment: Demonetisation was a well-intended but badly executed move.
He faults the government for allowing everyone to deposit the scrapped bills in banks. "If there were 10 people in a family, all 10 went to the bank with their (identity) documents.
The government should have said one family could deposit only a certain amount of old notes and that too if they carried ration card," Chand said.
Critics and the Opposition have labelled demonetisation as the largest money-laundering scheme that destroyed the economy and put people through months of hardship as they struggled for cash.
For the crackdown against black money to work, the government should ban high-value notes, said Chand.
"Middle class can manage with Rs 100 notes. If you are buying something expensive, pay through cheque or plastic money," he said.