Uncertainty over Dhami's future after loss of his seat
Mar 12, 2022 11:40 PM IST
The BJP won 47 number of the 70 seats in the assembly. The Congress finished a distant second with 19 seats.
After the Bharatiya Janata Party retained power in Uttarakhand by a comfortable majority in the newly elected assembly, there was no clarity yet on whether Pushkar Singh Dhami, who lost from the Khatima constituency, will continue to be chief minister of the Himalayan state.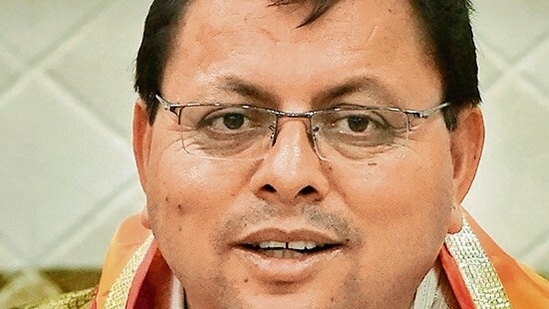 The BJP won 47 number of the 70 seats in the assembly. The Congress finished a distant second with 19 seats.
The 46-year-old Dhami, who took over as the youngest chief minister of the state on July 4 last year, is credited with keeping the administration stable and free of controversies in his 7-month tenure after the BJP changed the chief minister twice in five years. leading to charges of instability by the opposition.
The saffron outfit had changed two chief ministers — Trivendra Singh Rawat and Tirath Singh Rawat — between March and July last year. Trivendra Singh, who was chief minister since the BJP returned to power in 2017, had resigned in March last year following internal dissent over his leadership.
Tirath Singh, who was then appointed chief minister, came under heavy criticism for holding the Kumbh mela in Haridwar where millions congregated without adequate restrictions, just ahead of the devastating second wave of the Covid-19 pandemic in India. He was replaced by Dhami in July 2021.
Dhami has since steered clear of controversies and led the party's election campaign. The chief minister of Uttarakhand is a simple and gentle person, defence minister and veteran BJP leader Rajnath Singh had said at a public rally on February 8. Other senior leaders have also praised him.
Some of the new MLAs have said they were willing to vacate their seats in favour of Dhami as he has played a key role in BJP's victory. "If the party repeats him as chief minister in the present situation, I would offer my seat so that he could contest and reach assembly," said Kailash Gahtori from Champawat.
However, the BJP has other experienced politicians in the state who can be given the reins of the state, political observers said. Counted among them are former chief minister and Union minister Ramesh Pokhriyal Nishank, Ajay Bhatt, Satpal Maharaj, Anil Baluni and Dhan Singh Rawat.
The main factor that can favour Dhami is that he is a young leader, he succeeded in clearing the mess after removal of two chief ministers, and he made a mark despite leading for just a few months, according to MM Semwal, professor of political science in Garhwal Central University.
"On the other hand, factors that may not go in his favour are that being the chief ministerial face, he lost his seat, and he doesn't have much political experience as he has never been a minister or held a very important administrative post," Semwal said. " Also, he has to go for by-election within six months if is chosen for the job. tgere are many senior and experienced leaders who can be given the reins of the state."