Uneasy calm in Rajasthan gangster's village after 1 killed, 30 injured in violent protests
Jul 14, 2017 10:06 PM IST
Leaders of Rajput community say they will soon march to the state capital jaipur to push for their demand for a CBI inquiry into the killing of the gangster.
Jaipur: An uneasy calm prevailed in Rajasthan's Sanvrad village on Friday, two days after one person was killed and more than 30 were injured there when a stir over the encounter killing of a gangster turned violent.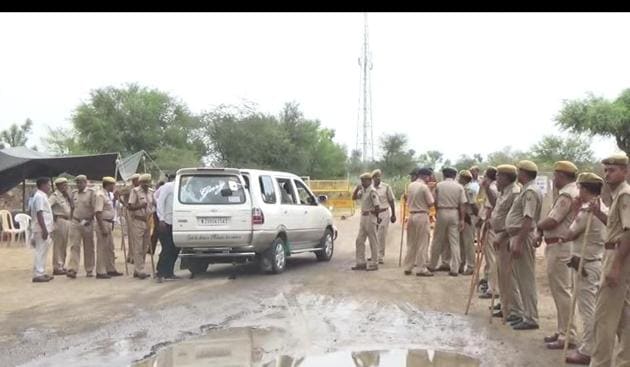 Thirteen companies of the Rajasthan armed constabulary (RAC) along with 400 personnel of the district police continued to be stationed in and around the gangster Anandpal Singh's native village in Nagaur district to prevent any untoward incident.
The violent protest erupted when the village's Rajput community took out a rally to pay tribute to the gangster, who was gunned down in a police encounter on June 24, and demand a CBI probe into his death.
The unruly mob damaged several properties and also assaulted the district superintendent of police and set ablaze his vehicle.
The miscreants also misbehaved with a trainee woman IPS officer and injured several policemen.
Singh was cremated on Thursday evening, 19 days after he was killed in an encounter with the special operations group of the Rajasthan Police in Churu district on June 24.
"The situation in the village marginally improved after the cremation. However, tension still prevails in the village," additional superintendent of police Gyan Chand Yadav told HT.
"Railway services have been partially restored and a few goods trains have already passed through the village. Repair works at the station, which was set on fire by the mob is also underway," Yadav said.
Additional director general of police (law and order) NRK Reddy said they were also keeping close watch on other Rajput-dominated areas under the Jodhpur, Jaipur range and the Shekhwati region of the state to prevent any flare up.
"We are planning to pull out one fourth of the current deployment today but companies of Rajasthan Armed Constabulary (RAC) will continue to be stationed in and around the village to ward off any untoward incident," Reddy added.
Meanwhile, Rajput leaders said they are steadfast on their plan to march to the state capital Jaipur to push for the CBI inquiry into the encounter.
They had claimed 10 lakh people will march to Jaipur to demand the CBI probe.
"The cremation of the body makes no difference to our movement. We want a CBI probe into the encounter so that the truth can come out and we stand by it. We will soon meet to fix the date for the Jaipur protest march," said Giriraj Singh Lotwara, president of the Rajput Sabha.