Warm Ajmer welcomes Pakistani pilgrims to Urs under tight security watch
Hindustan Times, Ajmer |
Deep Mukherjee & Salik Ahmad
Apr 08, 2017 08:13 PM IST
This year 402 pilgrims from Pakistan have come to Ajmer for the 805th death anniversary of Sufi saint Khwaja Moinuddin Chishti
An Orwellian feeling of being watched by several pairs of eyes writs large on the face of a soft-spoken bearded elderly man, sitting on the floor of Shahjahani mosque at the Sufi shrine of Khwaja Moinuddin Chishti in Ajmer.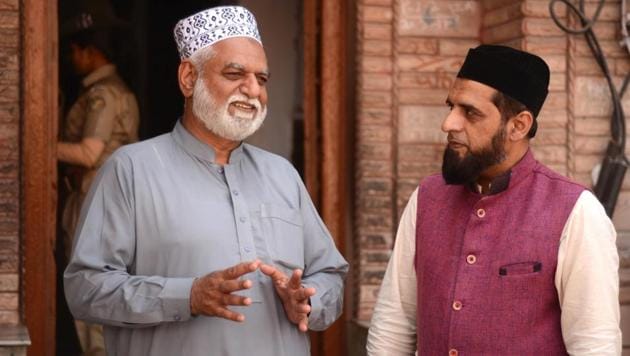 "Kehne ko to bohot kuchh hai magar hamein paabandi hain media se baat karne ke liye (We have a lot to say but we have been asked not to speak to the media)," he says.
A green strap looped around the collar of his grey kurta suspends his identity-card that proclaims his Pakistani nationality.
He is the victim of his identity.
"Aap naraaz na hoyein (Please do not get upset)," says his companion, before turning to the fellow green-strap wearers, uttering something in Pashto.
The men get up and leave. But not before, one of them says that he'll be questioned for half an hour even about this cursory exchange.
This year 402 pilgrims from Pakistan have come to Ajmer for the 805th death anniversary, better known as Urs in the subcontinent, of the Sufi saint.
Pilgrims often are the casualty of the strained relations between the two neighbours, as was the case in 2013 and 2014 when the visit of Pakistani pilgrims was cancelled.
The cancellation was caused by mounting tension following the death of Indian prisoner Sarabjit Singh in a Pakistan jail. The death of Pakistani national Sanaullah Ranjay in a jail in Jammu was also one of the contributing factors.
For the last three years, the visit of Pakistani pilgrims to Ajmer, however, has remained unhindered.
The week-long Urs celebration that ended on Friday saw an attendance of over two lakh devotees.
Prime Minister Narendra Modi and state chief minister Vasundhara Raje sent chadors as offerings at the shrine.
Nearly 4,500 police personnel were deployed at the shrine, which was the site for a bomb blast by Hindu-right wing groups ten years ago that killed three.
A few kilometres from the shrine, away from the many minuscule shops selling kebabs and other non-vegetarian delicacies, Pakistanis are staying at the Government Central Girls' School.
Intelligence personnel with sinewy hands sit outside the school throwing furtive glances around, pretending to be purposeless. The heavy security at the school gate refuses to allow the press inside the campus.
After much negotiation, and a few calls to senior officials, the police agree to bring the head of Pakistani contingent outside the school. Ali Khan, a 60-year-old resident of Islamabad, comes out, accompanied by an official of the Pakistan High Commission in India, with an indulgent smile on his face.
With police and intelligence men sitting around, Khan dilates on how much he is loving his first visit to India.
"When we got down at the railway station and saw the security personnel sent for us, we felt reassured that we are being taken care of here," he says.
A railway official in India asked Khan about the railway system in Pakistan. "It's the same, we too have TTs like you have here, they carry a notebook in their pockets and they roam around in the train, just like they do here," Khan told him.
When he was leaving Pakistan for Ajmer, his daughters made a special farmaaish (request) to him, "They want Rajasthani bangles."
"The people here are so warmhearted that a few shopkeepers presented us with small gifts upon learning that we were from Pakistan," says Khan.
He says that every year a lot of people apply for visa to come to Ajmer, but only a few are selected through a lucky draw. The Ajmer shrine is equally famous in Pakistan, if not more, he says.
On being asked whether there were any security-related apprehensions among the pilgrims before coming to India, he responds in negative. "Nobody thought twice. We invited applications and people flooded us with requests," he says.
At the shrine, another Pakistani opens up and breaks his silence after much persuasion. 70-year-old Azizur Rahman, from Pakistan's Faisalabad, is grateful to Khwaja for being given a third chance to visit the shrine.
Khwaja doesn't differentiate on the basis of nationality, he says.
"My prayer to Khwaja is that people from both the nations live in peace and relations between the two thrive," says Rahman.