Who is Anandpal Singh and why Rajputs in Rajasthan erupted in anger at his killing?
Hindustan Times, Jaipur |
Salik Ahmad and Deep Mukherjee
Jul 13, 2017 04:55 PM IST
Since he was killed, Rajput bodies across the state have blocked roads and vandalised public property in demand for an inquiry into what they allege was a staged encounter.
In the annals of Rajasthan's criminal history, Anandpal Singh's name strikes fear, anger and revulsion. But most of all, the 44-year-old is remembered with reverence, as the symbol of pride of a community wounded by years of alleged neglect and political apathy.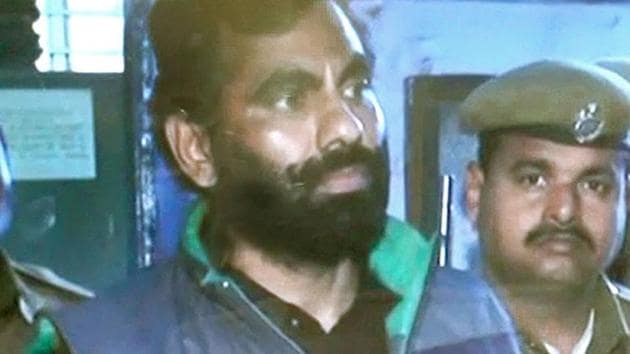 In about a month, Anandpal has been transformed into an icon who has galvanised the influential Rajput community, generated a snowballing demand for a CBI probe into his death and potential embarrassment for the ruling BJP.
Stay tuned with breaking news on HT Channel on Facebook.
Join Now
The 44-year-old Singh held a B. Ed degree and had serious charges against him such as murder and extortion – but through his two-decade career, he remained in the news, right from the time when he unsuccessfully contested panchayat elections in 2000 to the way he murdered two rival gang members inside the Bikaner jail in 2014.
In jail, Anandpal became a power icon because of his rugged appearance, his glamorous life– photographs of him in gym and showing off his toned muscles often found its way to social media platforms.
But perhaps what created the aura around the gangster was a daring escape from police custody in September 2015.
A native of Nagaur district, Anandpal as the leader of the Shekhawati gang, was dreaded across Rajasthan.
There are several factors behind the rise of Anandpal and his gang with revenge, caste, political patronage and extortion being the most important ones. He was involved in over two dozen cases in Didwana, Jaipur, Sikar, Sujangarh, Churu, Sanganer among others and was also the main accused in high-profile murder cases — Jivan Ram Godara murder case of Didwana (Nagaur) and Gopal Fogawat murder case of Sikar district.
"Anandpal had unsuccessfully contested panchayat elections, following which he blamed his rivals and tried to show himself as a victim in his community of Rajputs. He gradually gained few followers and soon became a known troublemaker in the Shekhawati region," a senior police official said.
In 2014, after his long-time associated Balbir Banuda was shot dead by a rival gang member inside the Bikaner jail, Anandpal brutally murdered Banuda's assailants inside the jail premises.
He was gunned down in what his supporters call a staged encounter last month in northern Rajasthan's Churu. Since then, Rajput bodies across the state have blocked roads, vandalised public property and demonstrated against police to press for an inquiry into what they allege was a staged encounter. At a massive protest on Wednesday, at least one person was killed and 32 people, including more than 20 policemen, were injured.
But how did a notorious criminal become the focal point of such demonstrations? The answer lies in Rajput's fraught history with Jats, the other big community in Rajasthan, and Anandpal's own meteoric rise from a relatively backward background.
Anandpal was a Ravana Rajput, a community considered inferior , especially for matrimony. He made a powerful point by riding a horse to his wedding – a symbol of Rajput pride that is off-limits for lower castes.
The Rajputs also saw in him an answer to the Jat gangsters whose reign Anandpal ended. Jats resent Rajputs for the latter's historical domination in a region where the Jats are the numerical majority.
His death also sparked a rush to appropriate his legacy with Rajput bodies, who had earlier kept a distance from Anandpal, coming out in solidarity.
Rajiv Gupta, retired professor of sociology from University of Rajasthan, has a better way to put it. "When power disintegrates, there arises an opportunity for others to consolidate that power. What we see now is the same phenomenon, the same question arising as to who or what will replace that power centre," said Gupta.
Furthermore, Anandpals' image echoed the aggression shown recently by Rajput bodies such as the Rajput Karni Sena, members of which disrupted the shooting of film Padmavati and slapped director Sanjay Leela Bhansali, claiming the movie insulted Rajputs.
(An earlier version of this article was published on June 25, 2017)