Who is Pratima Bhoumik — Union minister who could be first woman Tripura CM? 10 things
Mar 05, 2023 07:43 AM IST
Pratima Bhoumik said Prime Minister Narendra Modi gave identity to the northeast which was suffering from an "identity crisis".
Pratima Bhoumik, Union minister of state (MoS) for social justice and empowerment, has emerged as a strong contender to become the first woman chief minister of Tripura after winning the Dhanpur seat - a CPM-led Left Front bastion represented by former CM Manik Sarkar from March 1998 to March 2023 - in the recently concluded assembly election.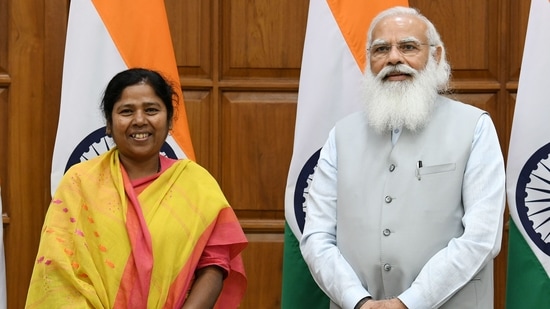 On Saturday, Bhoumik said that Prime Minister Narendra Modi gave identity to the northeast which was suffering from an "identity crisis".
According to the Election Commission of India, the Bharatiya Janata Party (BJP) won 32 seats with a vote share of around 39 per cent. The TIPRA Motha Party came second by winning 13 seats. The Communist Party of India (Marxist) got 11 seats, while the Congress bagged three seats. The Indigenous People's Front of Tripura (IPFT) managed to open its account by winning one seat.
Who is Pratima Bhoumik?
1. Pratima Bhoumik won the Dhanpur seat amassing 19,148 total votes with a staggering 42.25 per cent vote share. She is popularly known as 'Tripura's Didi' or 'Pratima Di'.
2. Bhoumik had contested the Tripura assembly elections from Dhanpur in 1998 and 2018 but lost against Manik Sarkar both times. However, this time, she managed to win from the same seat Dhanpur defeating CPI(M)'s Kaushik Chanda with a 3,500-vote margin. Sarkar didn't contest the Tripura poll this year.
3. On being asked about the speculation of being the next Tripura chief minister, Bhoumik said, "I am a dedicated party worker, and it is only because of the party that I am sitting in front of you. I contested the elections under the party's instructions, and the party is my mother. So, one shouldn't be speculating anything. I will do whatever the party will say."
4. Two years after being elected to Parliament in 2019 on a Bharatiya Janata Party (BJP) ticket, Bhowmik, 54, took oath as a Union minister in July 2021, becoming the first permanent resident of the small northeastern state to do so.
5. A graduate in science, Bhowmik has been with the BJP since 1991.
6. A year after joining the party, Bhowmik became a member of the BJP state committee and was made chief of the party's Dhanpur Mandal the subsequent year.
7. Bhowmik also served as the vice president of the party's youth and women wing. Later, in 2016, she was made the general secretary of the party.
8. In the 2019 Lok Sabha election, Bhowmik defeated the then sitting MP Shankar Prasad Datta by a huge margin of 305,689 votes.
9. Born to a school teacher father, Bhowmik has three siblings. In her earlier days, she used to play kho-kho and kabaddi at block, district and state-level events. She also used to practise farming in her native place at Baranarayan in Sonamura.
10. Tripura BJP chief Rajib Bhattacharjee, on speculation over Bhoumik becoming the next Tripura CM, said, "The decision will be taken in the legislative party meeting. Wait for 1-2 days during which we will make a decision. There is no dearth of leaders in the BJP and we have worked as a team in this poll."