Will high voter turnout make a difference to Belgavi's political families?
May 13, 2018 03:28 PM IST
The politics of this district is dominated by political clans, the most prominent of them being the Jarkiholi brothers.
Belgavi district, which is better known as Belgaum, has 18 constituencies and is part of the Mumbai-Karnataka region of Karnataka bordering Maharashtra. The district witnessed 68.12% voting this time, down from the 74.67% in 2013.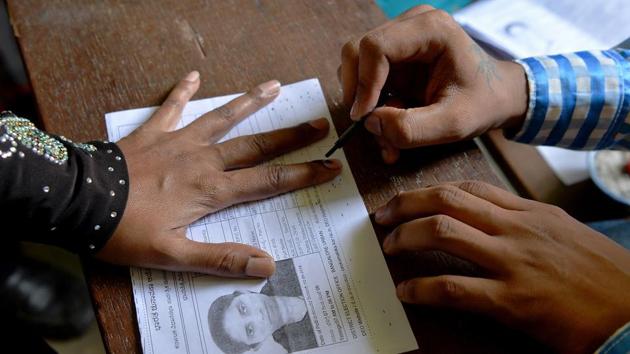 The politics of this district is dominated by political clans, the most prominent of them being the Jarkiholi brothers.
Stay tuned with breaking news on HT Channel on Facebook.
Join Now
Jarkiholi Brothers
The powerful Jarkiholi brothers are contesting from three seats in the district this time too.
Balachandra Laxmanrao Jarkiholi is the incumbent MLA and BJP candidate from Arabhavi. He is pitted against Arvind Mahadevrao Dalwai of the Congress and Bhimappa Gundappa Gadad of the JD(S).
The other brother Jarkiholi Ramesh Laxmanrao is fighting from Gokak on a Congress ticket. His BJP rival is Ashok Ningayyaswami Pujari and Kareppa Lakkappa Talawar is the JD(S) candidate.
Satish Laxmanarao Jarkiholi is contesting from Yemkanmardi (ST) on a Congress ticket against AM Mallappa of the BJP and Shankar B Gasti of the JD(S).
While Arabhavi polled 76.29% this time, up from 73.87% in 2013, Gokak witnessed 71.79% voting against 71.76%, and Yemkanmardi (ST) saw 79.11%, up from the 76.83%.
Husband-Wife Duo
The BJP has nominated Annasaheb Jolle in Chikkodi-Sadalaga seat while his wife, the sitting MLA in Nippani, Shashikala Jolle is taking on her old rival, Kakasaheb Patil of the Congress.
In Chikkodi-Sadalaga, the voting percent this time is 84.65, up from 80.03% in 2013.
Jolle's Congress rival is Ganesh Hukkeri, who is the son of Chikkodi MP Prakash Hukkeri
The polling percentage in Nippani is 80.78% in 2018, almost the same as in 2013, 80.62%.
Katti
Umesh Vishwanath Katti, the BJP candidate in Hukkeri, also has a political pedigree that is significant. The eight-time MLA is from the Lingayat community and is the son of late Vishwanath Katti, a prominent leader of the Janata Parivar.
Hukkeri witnessed 78.42% polling this time, while in 2013, it had polled 75.87%.
While the voting percentages in these constituencies might have a bearing on who wins from which family, the fate of these powerful families probably will not change much even if the party in power changes in the Vidhana Soudha (Assembly).