Capital punishment for hapless Mumbai
Hindustan Times |
, Mumbai
Anand Sachar/Abhijeet Kulkarni
Apr 17, 2012 02:10 AM IST
Daredevils' bowlers rip through the hosts' batting for effortless win. Anand Sachar and Abhijeet Kulkarni report. Main men | Cracking shots | Points table
Two genuine quicks who regularly clock above 145kph, a medium-pacer who has regained his ability to swing the ball and a rookie spinner with no burden of expectations decided to enjoy themselves every time they ran in to bowl.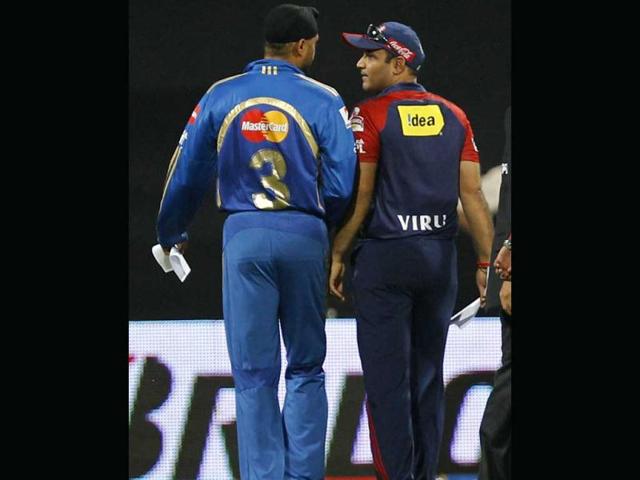 In a format that is considered batsmen-friendly, the Delhi Daredevils' bowling quartet overshadowed the explosive batting line-up of the Virender Sehwag-led side. For the second time in four games, the opposition failed to score at run-a-ball against them. The efforts became special as the earlier one was against two-time champions Chennai Super Kings.

Batting low
On Monday, the Daredevils bowled out the hosts for a meagre 92, their second-lowest total in the IPL. Delhi hardly broke sweat in overhauling the total with seven wickets and 32 balls to spare. With Lasith Malinga not playing, the MI bowling was unable to put any pressure on the Daredevils.
The manner in which the MI wickets tumbled was testimony to the variety in the Daredevils' bowling attack. Left-arm spinner Shahbaz Nadeem shattered the woodwork of openers Richard Levi and Davy Jacobs with the arm ball, Umesh Yadav hurried Dinesh Karthik into playing a pull while Rohit Sharma and Kieron Pollard were done in by the bounce.
Had a half-a-dozen edges that flew over or around the wicket-keeper been at catching distance, the scorecard would have looked like a binary code.
Clear gameplan
But despite the edges resulting in boundaries, the Daredevils' think-tank needs to be credited for the attacking intent that is showing results.
Team mentor TA Sekar said the rationale behind the gameplan was that containing the batsmen in this format was next to impossible. "I told the bowlers I won't mind if they go for runs but I need two wickets from them. Taking a wicket is like giving 6 or 7 runs in an over."
The bowling unit knows there will be bad days in office. But they are unlikely to alter their policy of "offence is the best defence".
With an easy target ahead, Sehwag for once batted calmly, taking 36 deliveries to score 32.
Their three foreign batting stalwarts, Kevin Pietersen, Mahela Jayawardene and Ross Taylor, in his first game after recovering from an arm fracture, all got a look-in before easing to victory.