All-women Churu police team reins in Romeos
May 14, 2017 08:07 PM IST
Till a few days ago, youngsters loitering around girls' schools and colleges was a common sight in Churu district of Rajasthan.
Till a few days ago, youngsters loitering around girls' schools and colleges was a common sight in Churu district of Rajasthan.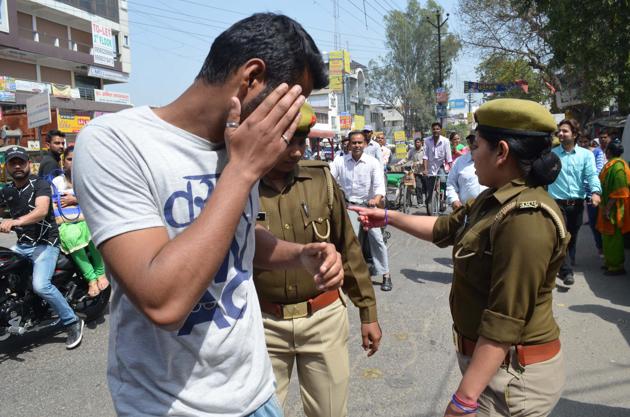 But the situation changed during the past few days, courtesy a motley group of 10 policewomen, and their mission -- 'Operation Romeo.'
Stay tuned with breaking news on HT Channel on Facebook.
Join Now
The Churu police have launched Operation Romeo, a drive against people who harass women in city areas; more than 40 men were arrested in the past four days.
"We started Operation Romeo to check harassment of women in public places. A team of 10 women police officials in plain clothes has been constituted; they are deployed in areas of the city," Churu superintendent of police Barhat Rahul Manhardan told HT.
The police said the initiative was started after several women and girls complained of harassment in public places by youngsters and bike-borne miscreants.
"Members of the team inconspicuously monitor the happenings in such areas; whenever they come across miscreants who attempt to harass women, they arrest them. Under the operation, we are also taking action against those not wearing helmets," said Manhardan.
The team is deployed near girls' schools and colleges, hostels, public parks and other crowded places, which are frequented by women, the police said
In March, Uttar Pradesh chief minister Yogi Adityanath announced the formation of anti-Romeo squads. In at least 11 districts of the country's most populous state, the police responded with alacrity: raiding parks, malls and colleges to deter Romeos from indulging in eve-teasing.
The move invited criticism from several quarters following allegations that the police were invading private space of citizens.
"Once the policewomen come across miscreants harassing women, they make them do sit-ups to give a public message that harassment won't be tolerated. The primary objective of the operation is to take preventive measures," said SP Manhardan.
The team members are trained in martial arts and don't face difficulties in stopping rowdy youngsters riding motorbikes.
"As we are not dressed in police uniform, miscreants feel that they will get away after harassing women. This comes as an extra benefit to us as we can intercept them when they are not expecting the police to be on their trail," said assistant sub-inspector Manjit Kaur who is heading the team.
Kaur said about 45 people have been taken into preventive custody in the last four days.
The policewomen also inform parents about wrongdoings of their children and counsel girl students.
In 77 instances, men have been let off after being warned. Five cases have been registered under the police Act.
In 15 cases, the team has engaged with parents of girl students to discuss their safety; 35 people have been challaned for driving recklessly, police said.