'Cops were drunk, made us sit for hours... abused us, one pushed my mother-in-law'
Sep 09, 2017 09:06 PM IST
It was an unlikely sight inside the usually crowded alleyways of the Walled City in Jaipur on Saturday with police being the only people visible on the streets
It was an unlikely sight inside the usually crowded alleyways of the Walled City in Jaipur on Saturday with police being the only people visible on the streets.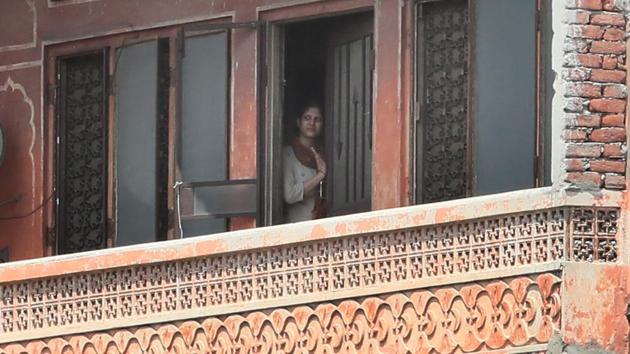 More than twelve hours have passed since violence erupted inside the Ramganj area and long after it was quelled; residents alleged that it was mismanagement on part of the police that triggered the sequence of events.
"I was coming towards Ramganj along with my wife and my three-year-old daughter on a motorcycle. Police were driving away street vendors and we were hit by their batons. One blow landed on my hand and our child fell down from the motorcycle," said Sajid, a local resident.
It was the incident that led to an altercation between the police and locals that snowballed into large scale violence.
"We went to the police station to lodge a complaint. They made us sit for more than three hours and abused us a number of times. One of them also pushed my elderly mother-in-law and it appeared that some of the police personnel were drunk," alleged Sajid's wife.
Local residents said the alleged dilly-dally on the part of the police allowed a mob to gather outside the Ramganj police station, which increased over the time.
"The police were late in lodging the complaint, which made the crowd more restless and pushed them towards violence. It was after this that stone pelting and the ruckus started," said Tariq Ahmed, another local resident.
The violence left one person dead and several policemen injured and vehicles, including an ambulance were torched by the angry mob.
Commissioner of police Sanjay Agarwal refuted allegations that the police personnel had misbehaved with the man and his family.
"No such thing happened and the CCTV footage from the police station is proof of this," he said.
Curfew was imposed in areas falling under four police stations of the city and mobile internet services were suspended in the city.
State BJP chief Ashok Parnami visited the Ramganj police station on Saturday and spoke with residents and officials to take stock of the situation.
'What happened here is a very unfortunate incident and I appeal to everyone to maintain peace and tranquility in the area. The incident will be investigated to find out who might be responsible for the violence," he said.
Former chief minister Ashok Gehlot tweeted "the incident was a matter of concern and the state government should ensure that peace is maintained".
"Exciting news! Hindustan Times is now on WhatsApp Channels
Subscribe today by clicking the link and stay updated with the latest news!"
Click here!