Dalit groom allegedly attacked with beer bottles for riding a mare
Apr 28, 2017 01:44 PM IST
Dalits have come under attack for riding a mare during marriage processions as the custom is considered a privilege of the higher classes.
Upper caste men in a Rajasthan village used beer bottles to allegedly beat up a 25-year-old Dalit groom who was riding a mare for his marriage procession, a custom considered a privilege of the higher classes.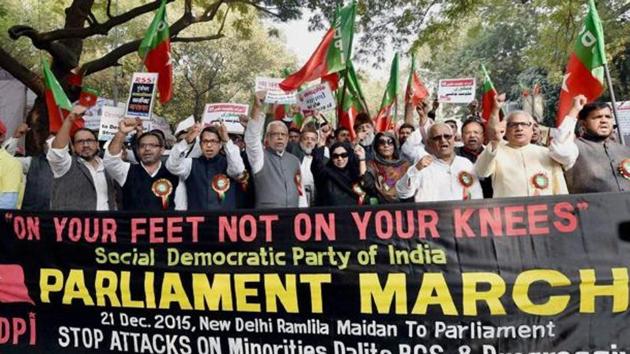 The incident happened in Jhalo ka Dhana village in Udaipur district where the groom, Kailash Meghwal was taking out his 'baraat' (marriage procession).
"Around five-six people (armed with beer bottles, rods and other sharp-edged weapons) attacked our procession. My son was forcibly taken down from the mare, beaten with beer bottles and dragged on the road for some distance," Kukaram Meghwal, Kailash's father told HT.
A few women, accompanying the attackers, also tried to beat the women in the procession and "abused us", he said.
Meghwal claimed the attackers were from the Rajput community, and they attacked the Dalits because "in our village, people from scheduled castes don't take out wedding processions riding a mare".
Kailash sustained injuries on his body and head, and had to get them stitched.
Police has detained four people, Rajendra Singh, Kalu Singh, Nepal Singh and Kishan Singh and are questioning them, Ghasa station house officer, Ramesh Kavia said.
Police said it appeared that the accused were "infuriated" to see people from the scheduled caste riding a mare.
A case has been registered under relevant sections of the IPC and the SC/ST Act. Protection has been given to the family after the incident.
Upper caste people have often opposed Dalits riding mares during marriage processions, saying Dalits are not allowed to perform this ritual. Attacks on those violating the norm have been reported from several places in the country, including in Haryana earlier this month.
On Sunday, a Dalit youth rode a mare in Bundi district of Rajasthan, but under heavy police protection as he had received threats from upper caste people. A similar incident was reported in Bundelkhand region of Madhya Pradesh last week.