Ek Tha Gangster: Wanted Rajasthan criminal working on biopic as cops hunt him
Mar 23, 2017 07:37 PM IST
Rajasthan police have been doggedly pursuing Vishram Choudhary, a dreaded criminal, for close to a year now but with little success. In the meantime, Choudhury seems to be occupied with the making of his biopic.
For the last 10 months, Rajasthan police have been doggedly pursuing Vishram Choudhary, a dreaded criminal, with little success.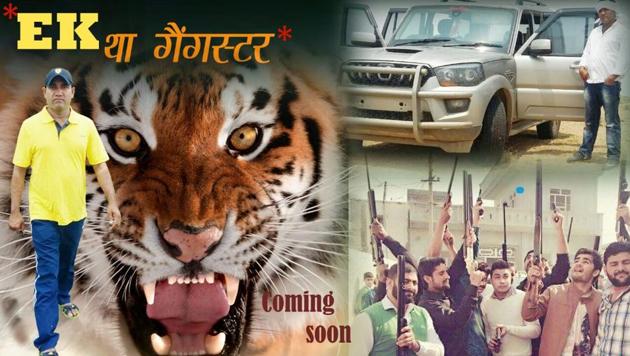 It appears that Choudhary has been "multitasking" all this while by evading arrest and also allegedly shooting for his 'biopic' Ek Tha Gangster.
Choudhary has a long criminal record and is wanted in several cases of assault and threatening people in the state's Ajmer district.
A video, which was uploaded to YouTube on March 17, claims that it is presented by the gangster and is about a song from his upcoming biopic. The song, titled Chhoro Mohanpura Ko (Boy from Mohanpura), has been sung by Praveen Kumar Jaat (PK), who has also uploaded the video. It lists Mewadi Brothers as the music composers.
The song in Rajasthani glorifies Choudhary and his "achievements" and highlights the fact that the wanted man, a native of Mohanpura village, is the pride of the Jat community.
The six-and-a-half-minute song talks about Choudhary's 56-inch chest and that his very name is enough to scare other gangsters and dons. It also says that Choudhary is revered even by the state's politicians.
The video repeatedly shows the film's poster that shows Choudhary standing in front of an SUV, posing with the face of a tiger in the background and a group of gun-toting men, who appear to be celebrating. The poster declares that the film is coming soon.
Police, however, seem to be clueless about the video and conceded that even though they have been looking for Choudhary for several months now, they are yet to arrest him.
"Nowadays, it has become very easy for people to access social media and post photos and videos. We will be investigating the matter to see that whether this video helps us to trace him," Yogendra Rathore, station house officer of Ajmer's Madanganj police station, said.
Choudhary has been absconding since June last year after he assaulted four men in Madanganj. He was earlier arrested and jailed for various offences such as firing at the police and beating up people.
A bandh was called by the members of the Rajput community in Kishangarh in June last year, demanding the arrest of Choudhary.
Ajmer superintendent of police, Nitin Deep Blaggan, told Hindustan Times they are currently investigating the matter.
"We will also try to track the person who uploaded the video through the help of IP address and other technical means. Choudhary is absconding since several months and we are searching for him," Blaggan said.