Gun toting murder accused challenges Rajasthan cops on Facebook: Catch me if you can
Aug 10, 2017 07:43 PM IST
On the run after killing his girlfriend's former boyfriend, 24-year-old Deepak Malik is making regular updates on Facebook warning them of dire consequences. His girlfriend Indubala has been arrested
He allegedly shot dead his girlfriend's ex-boyfriend. She then ran over a car on the body several times to make it look like an accident. It took police seven days to crack the case. They arrested the girl three days ago but he managed to give police the slip.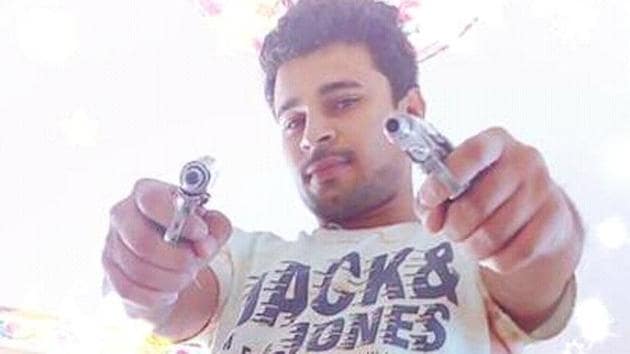 Now Deepak Kumar Malik has thrown a challenge to the Ganganagar police to "catch me if you can". The 24-year-old, who claims to be an engineering graduate, has also warned "2-3 constables" who allegedly "misbehaved with the love of my life" saying they will face consequences.
Stay tuned with breaking news on HT Channel on Facebook.
Join Now
And this he has done by making updates on social networking site Facebook, where he also 'confessed" to the crime. The last update was on August 9. This, even as police have formed four teams to track and nab him.
"Catch me if you can Ganganagar police…I give you six months…I dare you to even touch me…this is an open challenge... Warn those 2-3 policemen who misbehaved with the love of my life…they will have to pay for it," reads Malik's post.
The "love of his life", Indubala, is in police custody after being arrested on charges of killing her former boyfriend Vinod Beniwal on July 31.
"A badly maimed body was found in Sriganganagar a few days ago. It was later identified as that of Vinod Beniwal, a resident of Haryana. During investigation we came to know about the involvement of Malik and Indubala in the case," said Tulsidas Purohit, circle officer, Sriganganagar.
Indubala wanted to get rid of Beniwal, police said, adding this was the reason why Malik shot him dead.
"Indubala invited Beniwal to her house where he was offered alcohol. She then drove an inebriated Beniwal to a deserted area where Malik shot him in the head. Later, Indubala drove a car over Beniwal's body several times to make it look like an accident," said Purohit.
Indubala was arrested three days ago but Malik is on the run.
Malik seems to have confessed to the crime in one of the posts. "Ek ne hath lagane ke soachi thi…mara na kutte ki mout (One had thought of touching her (Indubala)…he died like a dog)," the post reads.
Malik has a penchant for arms and it is evident from the numerous photographs he has posted on Facebook holding guns, pistols, swords and other traditional arms.
"The Facebook posts are no big deal. We have constituted four teams to arrest Malik and he will be soon brought to justice. His last known location was in Uttar Pradesh," said Purohit.
Police said that Malik was also associated with the illegal liquor mafia and is also named in a murder case registered in Ajmer district.
In his last post, put up on Wednesday, he thanked the Sriganganagar police for accepting his "open challenge".
"Just wait and see what I will do now," he warned in the post.