Nahargarh death: Cops sit on handwriting samples for 4 days
Nov 28, 2017 08:52 PM IST
Even though four days have passed since the body of Chetan Kumar Saini was found hanging from the ramparts of the Nahargarh Fort, the Jaipur police are yet to reach on conclusion on the nature of his death
Even though four days have passed since the body of Chetan Kumar Saini was found hanging from the ramparts of the Nahargarh Fort, the Jaipur police are yet to reach on conclusion on the nature of his death.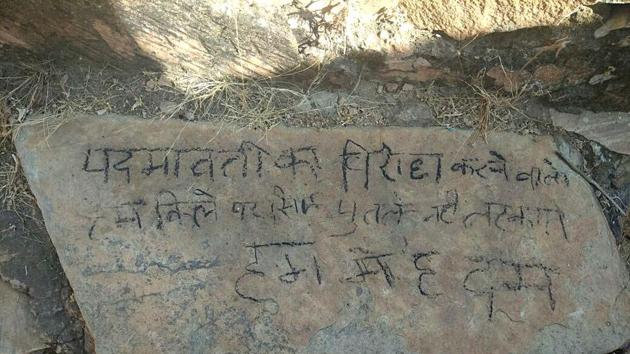 A delay in sending the handwriting samples of the deceased has also further slowed down the investigation.
Officials of the forensic science laboratory (FSL) said on Tuesday the handwriting samples of Saini were not sent to the laboratory until Monday evening.
"The samples haven't reached us. The analysis could start only after we receive the samples," BB Arora, director, state forensic science laboratory, told HT.
Police have been maintaining that the analysis of handwriting samples is essential to determine whether the writings found at the fort were written by Saini or not.
The body of Saini was found hanging from the ramparts of the Nahargarh Fort on Friday morning with strange messages scribbled on nearby stones.
The writings linked the death with the ongoing protests against the film, Padmavati, with one of the messages reading: "Those of you protesting against Padmavati, we don't just hang effigies at forts. We have guts."
Some of the messages also have alleged communal undertones, possibly to incite people.
At the time of filing the report, the handwriting samples taken from the house of Saini, were sent to the FSL.
"The handwriting samples were sent to the FSL today," Ramkishan, station house officer, Brahmpuri police station, told HT late on Tuesday.
The delay on part of the police to submit the handwriting samples, have also resulted in criticism.
"Until now, even after the request of Saini's wife, no FIR for murder has been registered. We have submitted a memorandum to the Jaipur police and have asked them to speed up the investigation," said Om Rajoria, district president, Mali Samaj.
Earlier, family members and Saini's wife said that he was murdered and alleged that efforts were being made to suppress the case.
Police, on their part maintained that preliminary investigation suggested that Saini committed suicide.
"An investigation is being carried out in the matter and the truth will come out as the probe progresses. It will be premature to comment at this point of time until more details come up in the investigation," said state director general of police Ajit Singh.