Cops accused of taking Alwar victim out of ICU, detaining him without treatment
Apr 07, 2017 07:51 PM IST
Azmat Khan was admitted to the intensive care unit of a private hospital after losing consciousness in a vicious attack by gau rakshaks on the Alwar highway earlier this week.
A week ago, Azmat Khan used to scoop his one-year-old daughter in his arms and play with her for hours together.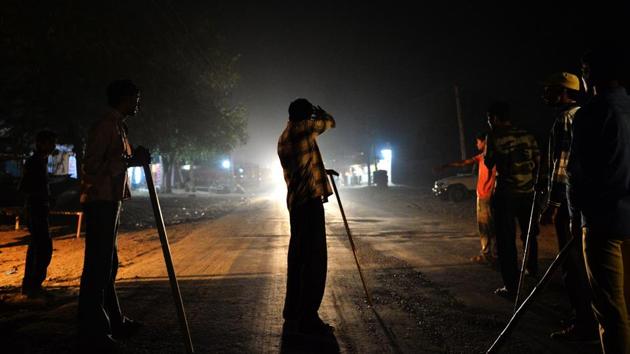 Today, after being beaten mercilessly by a mob of gau rakshaks (cow protection activists) and then spending an entire day without treatment at the Behror police station, the 22-year-old needs help even to stand. He spends his time lying on a cot, staring blankly at the grief-stricken faces of relatives and – on occasion – resignedly answering questions posed by mediapersons visiting his Mewat residence.
Stay tuned with breaking news on HT Channel on Facebook.
Join Now
"My brother was admitted to the intensive care unit (ICU) of a private hospital after losing consciousness in the attack. Two days later, he and three others were brought to the police station – where they were kept for an entire day without treatment," said Yousuf, his brother, adding that Khan's condition worsened because of that.
Khan and a few others were attacked by gau rakshaks on April 1, while they were returning to Jaisinghpur village after buying milch cows from a Jaipur market. One of the victims, Pehlu Khan (55), succumbed to his injuries later.
"I was made to sleep on the police station floor. They didn't give any reason for bringing me there, and didn't let me return to the hospital either," he told HT.
Khan was released the following day. "After the death of Pehlu Khan, we went to the Behror station and begged police to release my brother as well as the other three. Azmat was in such bad state that he had to be admitted to another hospital immediately afterwards," said Yousuf.
Khan and his family haven't heard from the police since then.
"Here in Mewat, Hindus and Muslims have lived in harmony for hundreds of years. We still can't bring ourselves to believe this. It's shocking that Azmat, all of 22, has been bedridden," said Mangal Ram, a neighbour.
Azmat's relatives are yet to come to terms with the events that occurred over the last few days. "Gau rakshaks attacked innocent people, and killed one of them. Instead of arresting them, police took one of the severely injured victims from the hospital ICU and kept them in custody for an entire day without treatment. What kind of law enforcement is this?" asked Haji Mohammedin, another close friend of the family.
Behror deputy superintendent of police Parmal Singh denied the charge. "This is a false accusation. Why will we take someone out of the ICU?" he asked.