Priceless artefacts kept in dismal condition at Jaipur police station
Aug 24, 2017 08:27 PM IST
They are beautifully chiselled pieces of art works, similar to the ones displayed across museums across the world, chronicling different periods of India's rich history
They are beautifully chiselled pieces of art works, similar to the ones displayed across museums across the world, chronicling different periods of India's rich history.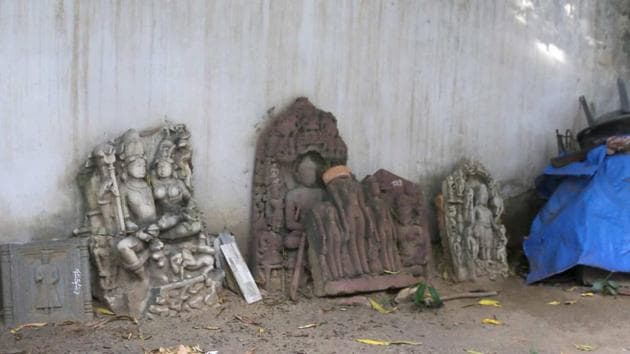 Yet, since the last decade, around 900 pieces of art works which are valued at an estimated amount of Rs.1,800 crore are kept locked in a godown of a police station in Jaipur, without any expert supervision and at a risk of getting damaged.
Stay tuned with breaking news on HT Channel on Facebook.
Join Now
The artefacts are predominantly from 2nd-12th century and are from various archaeological sites of the state such as Jhalawar, Kota and Udaipur, a senior police officer said.
These artefacts are at the police station due to a long-running court case that hasn't decided their final fate yet. The antiquities are a part of the art works seized from the alleged antique thief, Vaman Ghiya, after he was arrested in 2003.
"At the time of the confiscation, experts had valued the artifacts at Rs.2 crore each on an average. The market price of some of them went as high as 1 million dollars at the time," said Anand Shrivastava, inspector general of police, Udaipur range.
Shrivastava, under whose supervision the investigation of the case took place, said the artifacts included statues dating back to the time of Samudragupta, various busts of gods and goddesses and other periods of Indian history. "Some of them were so heavy that they had to be lifted with cranes, " said Shrivastava.
Ghiya was acquitted by the Rajasthan High Court in 2014 and since then the case is pending at the Supreme Court, resulting in a deadlock over the fate of the antiquities.
Artifacts kept in dismal conditions
The sight of the ancient statues of gods and goddesses scattered in the open at the Vidhyadhar Nagar police station in Jaipur is quite an unlikely one.
Some of them are kept in the open with no roof over them, at the risk of getting damaged or weathered by constant exposure to rain and heat.
There are no efforts by the authorities to get an expert opinion about their current condition or to preserve them. Ironically, the police at present don't even have the key to the godown where the rest of the artifacts are kept.
"There should be some kind of protection and efforts to preserve such sculptures and they shouldn't be kept in open. There's a risk of them getting damaged." said Arjun Prajapati, artist and Padma Shri recipent.
Surendra, in-charge of the police godown, said: "The last in-charge of the godown retired a couple of years ago and he is yet to hand the charge over to me. This is why, at present, I don't have the keys to the room."