Smuggling, lack of profit in breeding behind dip in camel population
Mar 27, 2017 08:44 PM IST
Police data reveals that in the last three years, 76 cases of camel smuggling have been registered in Rajasthan wherein 939 animals were transported outside for slaughter
The Rajasthan government might have declared camel as the state animal in June 2014, but if state police data is to be believed, the journey of the ship of the desert is filled with hindrances, smuggling being one of the main concerns.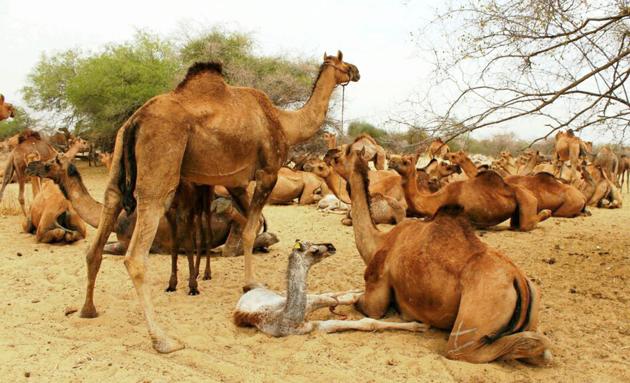 The police data reveals that in the last three years, 76 cases of camel smuggling have been registered in the state wherein 939 animals were transported outside for slaughter. During the same period, 196 people have been arrested under the Rajasthan Camel (Prohibition of Slaughter and Regulation of Temporary Migration or Export) Bill 2015.
Stay tuned with breaking news on HT Channel on Facebook.
Join Now
"Camels are slowly becoming endangered animals in Rajasthan. Ironically, the law to ban the transportation of the animal has backfired in a way that the government didn't foresee," said Hanwant Singh, director of Lokhit Pashupalak Sangsthan. "Customers from outside the state who used to come to cattle fairs in Rajasthan has stopped coming."
As a result of this, camel breeders in the state are sustaining huge losses, Singh said.
"The demand for camel meat in areas such as Hyderabad also contributes to camel smuggling. Lately, camel meat has become a delicacy in such places for which camels are made to walk hundreds of miles to illegal slaughterhouses," he said.
The camel population in the state was 7.46 lakh in 1992 which went down to 3.25 lakh in 2012, according to livestock census data available with the National Research Centre on Camel, Bikaner. Singh said the current estimate of the camel population in the state, according to the research done by Lokhit Pashupalak Sangsthan, is around 2.5 lakh.
The Rajasthan animal husbandry department has started a plan to encourage camel breeding from October last year under which ₹10,000 is awarded after the birth of every camel calf.
"The new generation of the raikas, traditional breeders of camels, are not interested in their familial occupation due to lack of profits after the ban on camel transportation as the fear of smuggling has led to legitimate buyers backtracking," said Singh.
He added that the size of a standard camel herd has also decreased.
"We have cracked down on quite a few cases wherein camels were being transported to Uttar Pradesh without permits and no-objection certificate of sub-divisional magistrates. The incidents increase particularly during the Gogamedi cattle fair during August every year," Hanumangarh superintendent of police Bhuvan Bhushan told HT.