Standing like wall between a rampaging mob and its target city, a few good men
Sep 10, 2017 08:05 PM IST
An angry mob was making its way through the serpentine alleys of the Walled City, setting up vehicles ablaze while pelting stones at policemen
An angry mob was making its way through the serpentine alleys of the Walled City, setting up vehicles ablaze while pelting stones at policemen.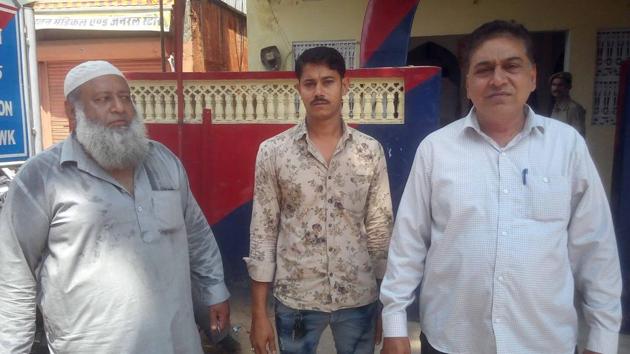 What started with a minor issue of a couple being accidentally hit by a police baton on Friday night, was shaping up into something that Jaipur in general and Ramganj area in particular could do without.
Already several policemen had been injured in clashes and one person killed, allegedly in firing by the forces. But on that fateful night, a few good men stood between the mob and a potentially disastrous aftermath where many more lives could have been lost.
Several members of the peace committee in the city risked their lives to stop the violence from spilling over to other areas of the densely populated old Jaipur.
"After the stone pelting started, a huge mob of over a thousand people started making its way from Ramganj to Subhash Chowk. I understood that if they were not stopped, the violence will spill into other parts of the city," said Gulam Ali Khan, a local resident and a member of the peace committee.
He along with other men stood like a wall between the protestors to prevent further violence. "We tried to reason with the mob urging them to desist from damaging public property and mediated between them and the police. We knew our lives were at risk but fortunately because we were local residents, they listened to us," said Khan.
Another such person was businessman Barkat Mirza, who made sure that an injured Mohammed Raees was sent to the hospital without any hassle.
"We realized that the sight of an injured person would have further infuriated the mob and thus made sure that he was sent to the SMS Hospital," said Mirza.
Raees was declared brought dead at the hospital..
"We didn't want the situation to get worse. The priority was to restrain the mob, otherwise the violence could have engulfed other parts of the city," said Shakkel Khan, another member of the committee.
The police too, are thankful to these men for helping them during the crucial time.
"We are very grateful to all members of the peace committee for the role that they played in quelling the violence. Many lives were saved because of the courage that they showed while calming the mob," said Rajendar Singh, station house officer, Subhash Chowk police station.