With FB posts, murder accused continues to mock cops
Aug 12, 2017 08:47 PM IST
Deepak Kumar Malik who is wanted for the murder of Vinod Beniwal has now claimed on Facebook that he is leaving the country and has also mocked the police for not being able to arrest him in spite of giving "so many clues."
"In Kutto ne jo tere sath galat kiya…maa kasam main ek ek chiz ka badla lunga… (The wrongs that they have done with you…I swear on my mother, that I will avenge all.)"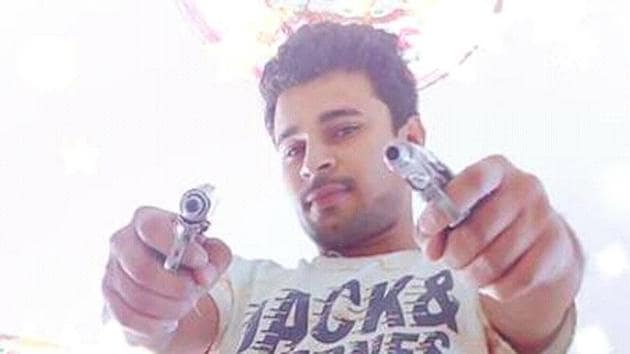 No, this is not a line from a Bollywood potboiler. It is yet another post on social networking site Facebook by a wanted murder accused from Rajasthan who has made a farce out of Sriganganagar police.
Stay tuned with breaking news on HT Channel on Facebook.
Join Now
After openly challenging the policemen, Deepak Kumar Malik has now claimed on Facebook that he is leaving India and also mocked the officials for not arresting him, in spite of giving "so many clues."
"Kal m other country me ja raha hu…in ko mene bahut clue diye lakin inke bas ka kuch nhi hai (I am going to another country tomorrow…I gave them (policemen) many clues but they are useless," his post uploaded on Friday reads.
Malik is wanted for the murder of Vinod Beniwal. His girlfriend Indubala has already been arrested by the police.
According to the police, Indubala wanted to get rid of Beniwal, and this was the reason why Malik shot him dead before Indubala allegedly run over a car over the body several times.
The saga of the Facebook posts started with the 24-year-old openly challenging the police, "Catch me if you can."
In the flurry of posts that were uploaded on his Facebook page Friday, Malik also claimed that Indubala was "innocent" and didn't play any part in the murder.
"Murder mene akele ne kiya fir inhone tuje galat fasaya (The murder was committed by me but they have wrongly implicated you)," reads one of the posts.
In the posts, Malik also wrote that contrary to the police claim she ran over the car on the body of Beniwal, Indubala doesn't know driving.
The wanted man also termed himself as a lion while calling Indubala a lioness on the posts made on Friday.
Malik has a penchant for arms and it is evident from the numerous photographs he has posted on Facebook holding guns, pistols, swords and other traditional arms.
In one of the posts, he has also uploaded a photo of Indubala, who too is seen holding a pistol. The police, on its part haven't been able to arrest Malik.