Bank officers detect fake Rs 2,000 note in Kolkata
Jan 06, 2017 10:00 AM IST
The note will now be sent to RBI.
A Rs 2,000 note deposited by a diagnostic centre in the Bhawanipur branch of Union Bank of India was found to be fake on Thursday. The cell of Kolkata Police that monitors fake currency was immediately alerted.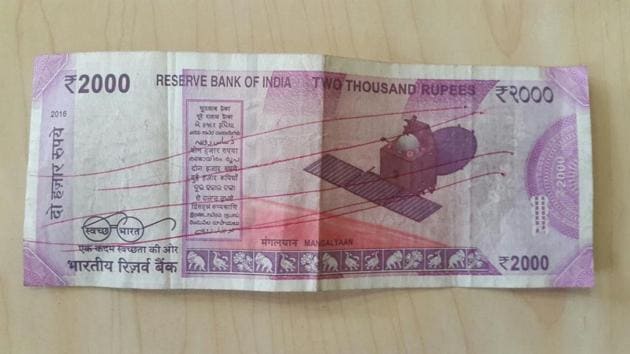 The discovery should ring alarm bells across the country as one of the primary objectives of the demonetisation move by Prime Minister Narendra Modi was to put fake currency out of circulation.
Stay tuned with breaking news on HT Channel on Facebook.
Join Now
Mediclue Research and Diagnostic lab in the Bhawanipur area deposited Rs 50,000 in the bank on Thursday and one note of Rs 2000 was found to be fake.
"The bank officials found that the note is not original. I have handed over the note to the special task force (STF) cell of the Kolkata Police. The STF is verifying it," Tarun Chakraborty, owner of the lab said.
"After thorough verification in our office, we think it's fake currency note. Considering the seriousness of the matter, we have communicated it our head office in Mumbai seeking advice," Arnab Bose, manager of the Union Bank of India, Bhawanipur branch, told HT.
Intelligence officials told HT that the very fact that such a note was detected in Kolkata provides all the more reason for concern as Bengal is considered to be the capital of fake currency in the country. Much of the fake currency is smuggled into the country through the porous Bengal-Bangladesh border through Murshidabad and Malda.
Apex bank officials used to say that in the Rs 1,000 and Rs 500 notes (now demonetised) the fake currency printers managed to replicate all 12 "overt" security features of genuine notes with a scary degree of accuracy.
On the basis of data from different states and central police agencies, the RBI found that over 80% of the 5,21,155 counterfeit notes seized in 2011-12 came through Bengal's Malda, Murshidabad and Nadia districts bordering Bangladesh.
"There are no RBI guidelines on how to differentiate between an original and a fake note of Rs 2,000. But there many differences that we have noticed. For instance, we could not even find the exact colour of the 'fake' note when it is kept under UV ray. This note is smaller in size than the original and its paper is also very rough," Bose said on Thursday.
The police was, however, more cautious. "We are still confused whether it's a fake. We will send to the RBI soon to check it properly," said Subrata Dey, officer-in-charge of the STF.
Earlier, one Sandeep Kumar and Harjinder were arrested from Bhikhiwind town in Punjab on charge of printing and circulating fake Rs 2,000 notes taking advantage of the unfamiliarity of many with the new currency.
According to studies conducted by different institutes, as many as 250 out of every 10 lakh notes in circulation are fake. Typically, at any point in time, banknotes with cumulative face value of Rs 400 crore are in circulation in the country.
Fake currency notes with a face value of around Rs 70 crore are infused into the system every year and law enforcement agencies are able to intercept only a third of them.