State govt mulls phasing out trams from Kolkata streets
Sep 18, 2016 02:19 PM IST
Over the past few months, high-level meetings have been held to work out how to bring the curtains down on the 143-year-old mode of city transport.
The eco-friendly lifeline of Kolkata for long — the tramways that once crisscrossed the city — may be riding into the sunset. There is a quiet but determined move to do away with whatever is left of the tram services. Over the past few months, high-level meetings involving senior bureaucrats have been held to work out how to bring the curtains down on the 143-year-old mode of city transport.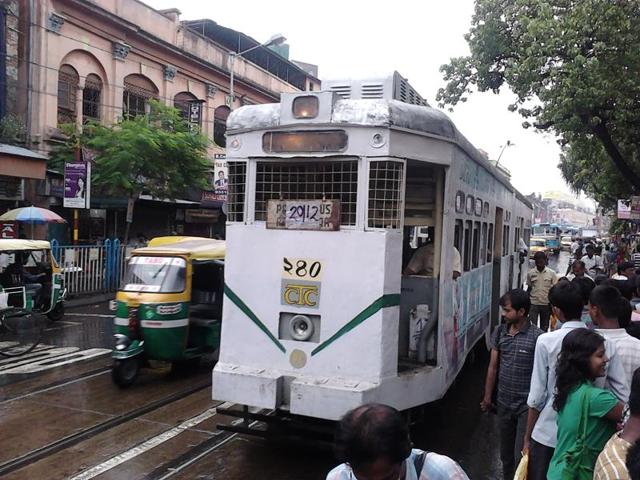 The move, on the lips of many for years now, gathered momentum after the three state-run transport undertakings --- Calcutta State Transport Corporation (CSTC), Calcutta Tram Company (CTC) and West Bengal Surface Transport Corporation (WBSTC) --- were merged to form the West Bengal Transport Corporation (WBTC).
But why do away with the trams? The service has been accused of occupying too much road space, carry too few passengers while slowing down the speed of other vehicles. However, it remains to be seen how the chief minister, who has a soft corner for everything traditional, reacts to the idea. Significantly, in 2006 former chief minister Buddhadeb Bhattacharjee wanted to ban hand-pulled rickshaws on the city streets, but was forced to drop the idea in the face of popular resistance.
Sources at Nabanna and Paribahan Bhavan (the transport department headquarters) told HT that the newly-appointed managing director (MD) Narayan Swarup Nigam has discussed the issue with top cops of Lalbazar and bureaucrats at the state secretariat during the past couple of months.
Read: Kolkata's vintage trams vying for a place in UN heritage list
Nigam, however, denied there was anything of the sort going on. "I have not discussed anything about this so far with any officials either at Nabanna or Lalbazar. The government will decide on this and why should I discuss it with others," Nigam told HT.
But a senior transport department official told HT, "The state transport department has already taken several initiatives giving clear hints that that the government is eager to discontinue tram services. The first one is to lease out the CTC's huge tram depots in different parts of Kolkata to private entrepreneurs for setting up housing complexes and shopping malls."
The transport department has sold the Tollygunj tram depot on 244 cottah of land to a real estate agency for Rs 181 crore. Belgachhia tram depot in the northern part of the city is all set to be leased out to another private agency soon. The transport department has already floated a tender in this regard.
There are other hints as well. The transport department has recently stopped tram services in many routes through Chitpur Road as well as Rabindra Sarani. Interestingly, this is the route in front of the Tagore's Jorasanko residence where electric tram services began in 1903.