5 art-related jobs every artist should know about
Jan 12, 2023 07:31 PM IST
As an artist, it's important to be aware of the various career paths that are available to you. While some artists may choose to focus on creating and selling their work, others may be interested in working in education, marketing, or other fields that allow them to use their artistic skills
Annika Connor stated that talent, passion, and drive are the most crucial traits for an aspiring artist to possess. Art is a diverse field that encompasses various disciplines and, like any other field, it is associated with many stereotypes, the most common of which is the "starving artist." This stereotype is often used to suggest that artists do not earn money or that if artists choose to follow their passion, they will be impoverished. However, the truth is that this field has many job opportunities.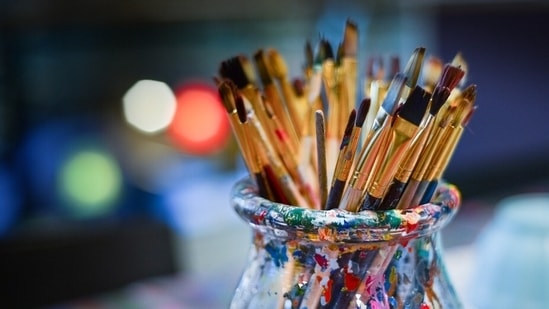 As an artist, it's important to be aware of the various career paths that are available to you. While some artists may choose to focus on creating and selling their work, others may be interested in working in education, marketing, or other fields that allow them to use their artistic skills differently. Here are five art-related jobs that every artist should know about:
Art Director: Art directors are responsible for creating and overseeing the visual style and aesthetic of a project, such as a film, television show, or advertising campaign. They work with a team of artists and designers to conceptualize and execute visual ideas and ensure that they align with the overall vision and goals of the project. Art directors often have a background in fine art, graphic design, or a related field and must have strong leadership and communication skills.
Illustrator: Illustrators create drawings, paintings, or other visual representations of ideas or stories. They may work in a variety of mediums, such as pencil, ink, watercolor, or digital media, and may be commissioned to create illustrations for books, magazines, advertisements, or other products. Illustrators must have a strong foundation in drawing and composition and should be able to effectively communicate ideas through visual means.
Gallery Curator: Gallery curators are responsible for organizing and overseeing art exhibitions and exhibitions in galleries, museums, or other venues. They may research and select works to be exhibited, write exhibition labels and catalogs, and work with artists to plan and install exhibitions. Curators should have a strong knowledge of art history and contemporary art practices and should be able to effectively communicate the vision and goals of an exhibition to a wide audience.
Animator: Animators create the illusion of movement through the use of sequential drawings, graphics, or other visual media. They may work on projects such as feature films, television shows, and video games, and may use a variety of techniques including traditional hand-drawn animation, stop-motion, or computer-generated imagery (CGI).
Graphic Designer: Graphic designers use typography, color, and layout to create visual communication materials such as logos, brochures, and websites. They may work on projects for clients in a variety of industries, including advertising, marketing, and publishing.
"Exciting news! Hindustan Times is now on WhatsApp Channels
Subscribe today by clicking the link and stay updated with the latest news!"
Click here!