7 bedroom design trends that will be out of style in 2023
Jan 29, 2023 02:59 PM IST
It's time to give your bedroom a chic makeover. From high gloss finishes to over-the-top drama, here are seven bedroom styles that will be out of style in 2023.
Home decor trends are constantly changing and it is difficult to predict when the designs will fall out of style. Overall the year 2023 will bid farewell to pretentious luxury or over-the-top drama. Luxury has a new meaning for homeowners now that are looking for bedrooms to be more soulful spaces painstakingly designed with more unique furniture and earthy textures, and materials to create a space that ensures a total reboot of mind, body and soul. It's the year for bringing out the purest part of our inner selves and creating a private sanctuary for ourselves. (Also read: Home decor and interior design tips to make your bedroom appear bigger )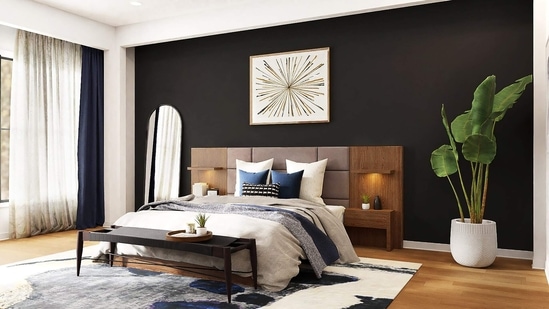 Talking to HT Lifestyle, Shimona Bhansali, Interior Designer and the Founder of Design Hex, shared 7 styles that we have been seeing a lot in the past couple of years and now need a completely fresh outlook.
1. Dark wood finishes and stark contrasts in colours
Dark wood finishes have been around for many years along with heavy wooden panels on walls. However, in 2023 it is time to bid goodbye to these heavy suffocating finishes of dark wood or veneers and welcome new and fresh shades and materials. Dark wood is replaced with white ash and white oak wood finishes.
2. TV in bedrooms
Another aspect that we will get to see less of. Although the TV in the bedroom makes for a cozy and comfortable television-watching experience, it also invades the private and quiet time one needs to have after a long tiring day. Hence, more people are opting for separate TV or media rooms designed for a comfortable and cozy viewing experience instead of TV in bedrooms. Rooms are becoming more of a peaceful sanctuary meant for relaxing, rejuvenating and recharging.
3. Giving up on the 2 M's
Minimal-bare and Monochrome spaces. Minimalist bedrooms with bare walls devoid of character and personal touch are done and dusted. People today want to see more characters and layers in space and minimalist design makes it monotonous and boring. People want to add things with beauty and meaning and memorabilia that make their space more personal and something they would love to come home to after a tiring day.
Monochromatic finishes using similar colour schemes, for example, a black, white and grey room, lack adventure and a distinct identity. Users want to make their bedrooms more experiential and warm rather than cold and bland. It's the time for adding newer shades to the rooms, that translate peace and tranquillity to the residents. People are experimenting with shades and welcoming newer colour palettes into their bedrooms.
4. Over-the-top grand millennial style
While this design trend took off in a big way from 2020 onwards, we have seen it clearly move out of private spaces. Mixing bold patterns and prints is definitely a fun decor style to experiment with in common rooms like family rooms or media rooms but we have seen a shift with clients demanding subtle and calming finishes and harmonious patterns when it comes to bedroom decor.
5. Goodbye high gloss finishes and shiny bling in interiors
There is a growing urge to bring in more 'natural, organic and earthy, and more well-being into homes. The concept of sustainable living is seeping deep into people's homes and they are becoming more conscious of their choices, inclining towards the use of natural materials and organic textures in their home design.
The language of luxury has evolved from high gloss paints to earthy texture, from glossy marble to natural stones or low gloss finishes on marbles and even wooden floorings, from glossy laminates on furniture to micro cement or other matt finishes, from blingy chandeliers to lights with Minimal design and matt and textured finishes. From glossy metal to matt brushed metal finishes. It's the year that Matt finishes.
6. DIY bohemian style
Think of a room with basic painted walls, decorated with make-do decor items like old printed fabrics or sheets used as wall hangings, macrame wall hangings or dream catchers, fairy lights and lots of DIY crafts items and cheap finds in furniture set across the room. This has been a popular trend amongst the younger generation in recent years, especially with the advent of a whole new young generation of YouTubers.
However, with the growing awareness of sustainable living and more durable materials, this style is seeing its own downfall. While it is still a go-to style for the quick fixes of budget-friendly rented homes, people looking at doing up their family homes prefer bedrooms with finishes and materials that will stand the test of time and bring in a sense of luxury.
7. Rooms with coordinated furniture
Gone are the days when a bedroom had matching design details on cupboards, beds, dressers etc. It's the time to mix and match and create a fun mix of design styles and colours. People are inviting standout consoles, show units, book shelves, and a brilliant mix of colours in different pieces in the same room. Every piece, while harmonious to the look in totality, still tells its own design story. Designers are working harder to bring together unique blends of details and colours that work in tandem with the entire theme of the room but also lend their individual character to the design.