Family is my solace: Chess's Koneru Humpy on life, love and being one move ahead
Aug 10, 2023 05:34 PM IST
She was the world's youngest female grandmaster, at 15. Now 35, Humpy has won India's first silver at the World Blitz.
"They stood around me, their faces lit up with joy, waiting for me to lose."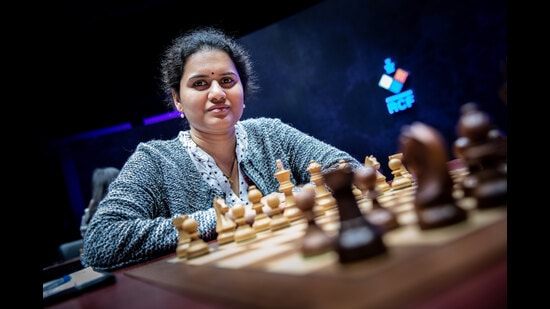 Koneru Humpy is thinking back 20 years, to when she was a teenager playing in a tournament of disgruntled men. She had turned down her opponent's offer of a draw and meandered into a slightly worse position on the board. It looked like it was all over for her.
Her peripheral vision relayed anticipation and hopeful smiles from those gathered around. It's a branding-iron of a memory, and it was among Humpy's earliest realisations of what it meant to be a successful female player in this sport. But it was the doubters that had drawn her to that tournament, the 2003 Open National 'B', soon after she turned grandmaster at 15.
She'd faced a barrage of criticism over taking the weaker, Europe route to gaining norms. A young girl who'd given up school to play chess, she was yet to fully comprehend the gender biases at play in the discourse. She recalled being "not liked as much, made fun of often" even before she became the youngest female grandmaster in the world, when she was the only girl in the Under-12 open nationals, a tournament she went on to win outright.
Today, Humpy is ranked No. 3 in the world and remains India's best woman chess player. Her fierce ambition has settled into an assured calm, and an unhurried tournament calendar. The obstinacy remains. "I was this determined kid right from the start. Now when I look back, that's what fetched me some crucial points through my career," Humpy says.
Last month, the 35-year-old wife and mother brought home India's first-ever silver from the World Blitz Championship. This comes three years after she won the women's world rapid chess championship. (Oddly, Humpy doesn't yet have a world title in the format that's considered her core strength – classical chess.)
"Nowadays, I don't think much about the major titles. I've been playing since I was six and somewhere in the last half decade, a lot has changed. Today I'm realistic enough to know I don't have the energy to play too many tournaments. My focus is to enjoy the ones I show up for, rather than chase everything."
Humpy was introduced to chess by her father, Ashok Koneru, who played the sport too. Once she began showing reasonably good results as a junior, he quit his job as a professor to train and mentor her full-time. Soon, Humpy had to choose between taking her Class 10 board exams and chasing the grandmaster title. She and her parents were in agreement. "Chess was the obvious answer. I tried to take up a distance learning course many years later, but just couldn't gather the focus. I left my education at that. Thankfully, chess brought rewards," Humpy says.
After she became grandmaster, and the criticism flew in thick and fast, Humpy lost her corporate sponsorship. This sparked financial troubles. "All this threw me into depression," she says, "I lost the will to eat, sleep or talk. Because I wasn't going to school, I didn't have many friends my age. My parents were my closest friends growing up." Slowly, with their help, she recovered.
***
In 2014, Humpy married Anvesh Dasari, vice-president of his family's Internet-of-Things or IoT solutions company. The two families were close; he was older by a year. "I liked his down-to-earth nature, he loved that I had a busy career, and we agreed there'd be no time for fights," she says, laughing.
She took a two-year sabbatical from chess between 2016 and 2018, to focus on a complicated pregnancy and new motherhood. "It was my first real break since I had started playing. There was nothing to chase, no flights to catch, no opponents to beat." The return to chess was arduous. She had an insipid Olympiad appearance and a second-round exit in the 2018 women's world championship. Soon enough, though, she won the 2019-20 Women's Grand Prix, the world rapid championship and the 2020 Cairns Cup.
Parenting has changed her in some ways, she says, and not at all in others. These days Humpy travels for tournaments with thoughts about her five-year-old daughter Ahana's school projects and mealtimes in the back of her mind. She still gets angry with herself over a poor result, but doesn't carry that baggage home. "I do punish myself with a skipped meal."
Home is a different world, "where my husband and I bicker over whether our daughter should eat another ice-cream. He's an indulgent parent. I try to play bad cop. But on most occasions, I fail hopelessly," she says, laughing.
***
At tournament halls, it makes her happy to see more women in the room. She draws comfort from the fact that many are mothers, and all are struggling. A top player with four children jokes about how she asks everyone on her contact list to chip in with babysitting when she's away. Between rounds, these players chat about their lives, exchange notes on parenting, but deep friendships remain rare. In a psychological sport like chess, it can be hard to turn an opponent into a dear friend, Humpy says.
Family is the ultimate solace. "I now have an aspect of my life that's untouched by how well or how badly I play. That helps put even my worst results into perspective. The day I drop sharply in rankings and don't have the results to show for the time I spend away from Ahana, I'll stop playing."
That might still be a while away. The pull of the board is strong, and Humpy has a way of landing on her feet after each fall.
"I still love chess," she says, "but today, my priority is my daughter." Her priority and her delight. When she landed in Hyderabad after the World Blitz last month, Ahana was taken aback, Humpy says laughing. "She couldn't for the life of her understand why people were clicking selfies with her mother. She's aware that I play chess but not that I do it more than reasonably well."
"Exciting news! Hindustan Times is now on WhatsApp Channels
Subscribe today by clicking the link and stay updated with the latest news!"
Click here!
Continue reading with HT Premium Subscription
Daily E Paper I Premium Articles I Brunch E Magazine I Daily Infographics