Great expectations: Anupama Chopra on how films now depict pregnancy
Nov 26, 2022 12:52 AM IST
Indian cinema has typically deified mothers and ignored pregnancy. That's changing, with hope for even-realer tales to come
This month, pregnant protagonists loomed large on our screens, an unusual occurrence given how rarely filmmakers pay sustained attention to this exciting and tumultuous time in a woman's life. The Telugu film Yashoda had Samantha Ruth Prabhu in the titular role, playing a lower-middle-class woman who serves as a surrogate in order to pay for her sister's medical treatment. Or so we think.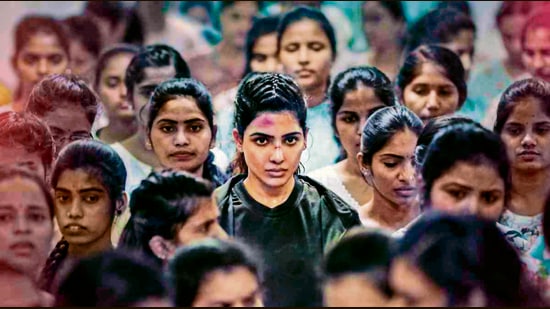 Over the course of the film, we discover that Yashoda isn't who we think she is, and neither is the incredibly luxurious surrogacy facility Eva, where she and several other pregnant women have been accommodated. Eva, which resembles both a five-star hotel and a futuristic prison, with its long, eerily lit corridors, is actually a hotbed of horrific crimes. Which Yashoda proceeds to wage war against.
In the mostly-English-language Wonder Women, now streaming on Sony Liv, six pregnant women meet at a prenatal-care centre in Kerala. They come from different socio-economic backgrounds and have little in common, except that they are all at this overwhelming and bewildering juncture in their lives. Their bodies, emotions, hormones and relationships are all in flux. They're navigating joy, fear, confusion, anger and loneliness. Over the duration of the course they have signed up for, they come to understand that they are not alone. They create a WhatsApp group called Wonder Women.
Pregnancy is not a hot topic in Indian cinema. Even mothers, from Mother India (1957) onward, have been deified as women who sacrifice with a smile and exist on a pedestal. As Salim-Javed most famously demonstrated in Deewar (1975), mothers constitute the moral centre, so when Vijay asks his brother Ravi what he has that can match his buildings, bungalow and property, Ravi's response of "Mere paas maa hai" sums it all up perfectly.
There is little room in these tellings for the true experience; for the ambiguity, chaos and messiness that pregnancy and motherhood entail.
Yashoda also gives the mother exalted status, but manages to blend this with the pregnant-woman-warrior persona that we first encountered in Kahaani in 2012 (though of course, in that film, she was faking the pregnancy). The uneven script gains tremendously from Samantha's strong performance. The screenplay of Yashoda places her character in several life-threatening situations. She kicks, claws, punches and kills. While it's improbable that a pregnant woman could pull off some of these stunts, she makes it all look smashing.
Wonder Women touches upon the many complications of becoming a mother, but writer-director Anjali Menon admits she chose to tread softly. The film is both simplistic and determinedly sunny. In an interview with me, Anjali spoke of how people don't want to see too much of the reality. "When this is happening to a woman in your house, people still look away, so would you really want to pay money and go watch it on a screen? For me this is just an opening where I'm showing it in a very light way. I would rather start in a light way and then get the confidence to be able to explore it in more depth," she said.
I do hope that exploration happens. Because there are many splendid stories of those nine months and beyond waiting to be told.
"Exciting news! Hindustan Times is now on WhatsApp Channels
Subscribe today by clicking the link and stay updated with the latest news!"
Click here!
Continue reading with HT Premium Subscription
Daily E Paper I Premium Articles I Brunch E Magazine I Daily Infographics