Have you heard the good word? A priest is shattering stereotypes on Instagram
Jan 21, 2023 04:36 PM IST
Fr Warner D'Souza aka @pottypadre says he finds the priestly stereotype of a somber, stern man in robes funny. His popular posts touch upon his love of cooking, culture, travel, history and DIY crafts.
Warner D'Souza is a Catholic from Mumbai who loves cooking, food, shopping and crafts, and has thousands of followers on Instagram and YouTube. All of which would be unremarkable, except that D'Souza is also a priest.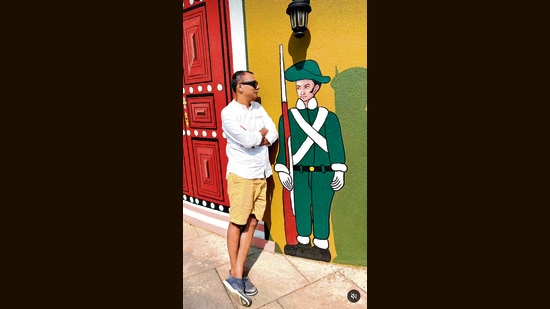 Fr D'Souza aka @pottypadre, 52, says he finds the priestly stereotype of a somber, stern man in robes funny. He's a hotel management graduate who's been with the church for over 30 years, and through those decades he has nursed a love of rare recipes and culinary tales, history and heritage.
It was D'Souza who, as head of the Archdiocesan Heritage Committee, helped set up Mumbai's Archdiocesan Heritage Museum in 2011. This Christmas, his love of thrifting led to posts about creative and affordable ways to decorate a Christmas tree. (More on that in a bit.)
He's always enjoyed merging his interests with his work within the Church, Fr D'Souza says. He began posting about these interests online in 2016, via a blog about food, faith and philosophy. Soon, he was also writing about his travels to places such as Rome and Jerusalem, and the Christian history and heritage he encountered there and here at home.
In the early months of the pandemic, he launched an eponymous YouTube channel. "Three weeks before the lockdown, our church in Mumbai took all our services online. That is when a lot of priests started writing to me that there was no one to come and cook and it would be great if I could help them with some videos," Fr D'Souza says.
When a recipe for Mangalore fish curry got over 70,000 views, he decided to make more time for this. The videos are shot in his residential quarters and delicious recipes merge with gentle banter about food, faith and the history of both. Fr D'Souza now has over 32,000 subscribers on YouTube, and more than 3,500 on Instagram.
His interest in culinary history is contagious. Take his explanation of why he's fascinated by the Goan dish sorpotel. "It has its roots in a South American dish that evolved from a context of slavery, where the slaves were given the unwanted cuts of meat like the liver and the kidney. They cooked this with beans and made a great dish. This dish was brought to India by the Portuguese. With their chillies and a mix of Indian spices, the Goan sorpotel was born. Today, the best cuts of meat are used for sorpotel too," he says.
Goa and its food are a recurring theme in D'Souza's posts. This is partly because Goa is where his father is from (his mother is from Mangaluru), and partly because "given a chance I would run off to that state. There is a lot more to it than touristy beaches. The food, the culture, the whole idea of susegad, which though associated with a laidback attitude also means being content and living happily…"
In addition to a focus on food — "Eating together is a very important act; it's an invitation to join a clan, community or family" — Fr D'Souza's DIY videos are popular too. Last month, he spent a few hundred rupees at Mumbai's Crawford market and then used the glitter, sequins, glass balls and costume jewellery to make ornaments for his Christmas tree.
He learnt to do this growing up in a family of limited means, he says. His parents, both teachers, raised their three children to be creative with what was available. "My mother taught us to make delicious food from little, to decorate with what he could afford and to preserve what we had. This creativity is now part of my life," Fr D'Souza says.
He wishes people would extend those values to their use of social media. "We keep looking at what others are doing and try to imitate it. But there is so much more we could do with these platforms judiciously, spending more time with what we have, allowing our imagination to work and perhaps only then sharing something with the world."
Get a colourful deal with 70% off on HT Premium annual plans
Enjoy Unlimited Digital Access with HT Premium