Is it a bird? Is it a plane? It's a homegrown superhero!
Dec 18, 2021 07:28 PM IST
Minnal Murali starts out in a lungi, with a gamcha for a mask. The made-in-Kerala man of steel is endearing, brash and funny, says Anupama Chopra.
Hindi cinema and superheroes have a chequered history. Since Mr India (1987), in which Anil Kapoor plays a character who uses an invisibility cloak to fight the arch-villain Mogambo, and Toofan (1989), in which Amitabh Bachchan plays twin brothers, one a magician and the other a caped, crime-fighting vigilante, Bollywood has attempted to create a local superhero to match iconic Western figures such as Superman, Spiderman, Batman and the pantheon of the Marvel multiverse.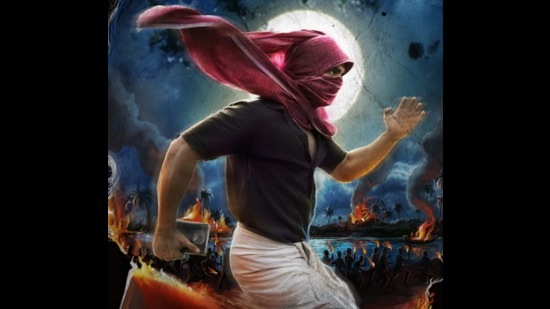 There was Shah Rukh Khan in Ra.One (2011), Abhishek Bachchan in Drona (2008), Tiger Shroff in A Flying Jatt (2016) and Harshvardhan Kapoor in Bhavesh Joshi Superhero (2018), all of which came and went without much ado.
The biggest success so far has been Hrithik Roshan in the Krrish franchise — three movies, with the character only appearing in two of those, but a fourth film now in the works.
Admittedly, a Bollywood superhero is a tough proposition. For one thing, he'd have to outdo all of Hindi cinema's leading men, a tough ask given that these have traditionally been superheroes without the cape — handsome, morally upright, strong enough to defeat dastardly villains without breaking a sweat.
The Bollywood superhero must also fulfil other requirements. He can't be too single-minded in his mission of saving the world, because at some point, he or his alter-ego will need to fall in love, break into song, grapple with familial issues (ideally involving a mother).
In addition, he'd have to get it all done on a relatively small budget. The Hindi film industry does not have the ultra-deep pockets or VFX capabilities of its American counterpart. A case in point: Spider-Man: Homecoming (2017) and Spider-Man: Far From Home (2019), both prequels to Spider-Man: No Way Home, released in theatres this weekend, had budgets of $175 million and $160 million respectively.
So how does India crack this? Malayalam cinema might provide the answer with the film Minnal Murali, set for release on December 24. This is the story of a tailor named Jaison (played by a charming Tovino Thomas), who lives in Kurukkanmoola, a village in Kerala. Jaison has troubles with his girlfriend, his family, the lack of opportunity (he yearns to migrate to America because he has somehow got the idea that tailors are in great demand there).
One day, Jaison is hit by lightning and develops superhuman strength. Eventually, of course, he must don a costume, fight a villain and save the village, but the route to that end is peppered with terrific comedy, superbly orchestrated moments of realisation — when he leaps off a tree, he plummets to the ground and sagely concludes that he can't fly — and details that root the story in its milieu (in one scene, a tiffin box topples and Jaison, who now has lightning-quick reflexes, kicks it back up onto its shelf).
Minnal Murali is a superhero film that isn't attempting to look world-class or compete with the West. In fact, Jaison has never heard of Hollywood's superheroes; his nephew has to give him a crash course. Instead, director Basil Joseph and writers Arun Anirudhan and Justin Mathew go local, creating, as Basil said in an interview, "a superhero next door".
Basil added that the superhero element in the film is "simply the X-factor". "We didn't make one for the genre's sake. If you take out all the superhero elements, it will be a good movie as it is."
Perhaps this is the way forward for Bollywood too. Jaison, bumbling, sometimes brash, sometimes petulant, and in some scenes even a figure of fun, is an incomparable, homegrown man of steel. I can't wait to see what he does next.
Continue reading with HT Premium Subscription
Daily E Paper I Premium Articles I Brunch E Magazine I Daily Infographics