Lal Bahadur Shastri Death Anniversary: 8 inspiring quotes by India's second PM
Jan 11, 2023 03:39 PM IST
Lal Bahadur Shastri's legacy continues to inspire people to this day. His teachings and quotes are still remembered and respected. His leadership during one of India's most critical period in history has left a lasting impact on the country and its people
Lal Bahadur Shastri was India's second Prime Minister, serving from 1964 until his untimely death in 1966. Known for his leadership during the 1965 India-Pakistan war, as well as his campaign slogan "Jai Jawan Jai Kisan" (Hail the Soldier, Hail the Farmer), he was renowned for his straightforwardness and honesty, which motivated others to follow in his footsteps. He was a leader who was always concerned with the well-being of the nation and its people.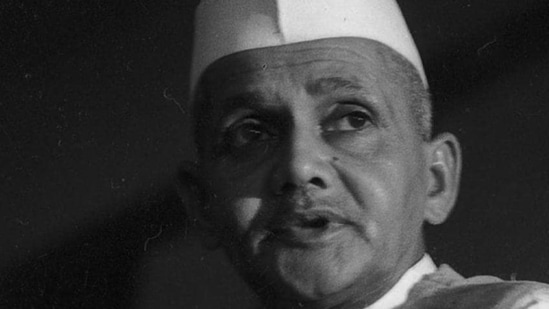 Lal Bahadur Shastri's legacy continues to inspire people to this day. His teachings and quotes are still remembered and respected. His leadership during one of India's most critical period in history has left a lasting impact on the country and its people. His teachings of simplicity, honesty, and selflessness continue to motivate people to work for the betterment of the nation and its people. His death anniversary reminds us of his contributions to the nation and his principles which should be followed by the future leaders of the country.
"The power to question is the basis of all human progress. "
This remark by Shastri emphasises the significance of questioning to advance. It motivates people to question things that are not right or fair and to seek to improve them.
"Self-reliance is the only road to true freedom, and being one's own master is its ultimate reward. "
Shastri believed that being dependent on others was not true freedom and that true freedom can only be attained by being self-reliant.
"India will have to fight for her freedom on two fronts, the external and the internal. Both are equally important."
This quote by India's 2nd PM highlights the importance of internal and external security. He believed that to secure its independence, India needed to be prepared to tackle both external foes and domestic challenges.
"We believe in peace and peaceful development, not only for ourselves but for people all over the world. "
Shastri was a firm believer in peace and advocated for peaceful coexistence with other nations. He believed that peace was crucial for the development of the country and its people.
"The strength of the country lies in the villages."
Shastri was a strong advocate of rural development and believed that the strength of the country lies in its villages. He believed that the development of the rural areas was crucial for the overall development of the country.
"Freedom and power bring responsibility."
Shastri believed that with freedom and power comes responsibility. He stressed the importance of being responsible and accountable for one's actions. He believed that it was the responsibility of those in power to use it for the benefit of the people and the country.
"We must fight for peace as fiercely as we fight against war. "
He believed that peace should not be taken for granted and that it required as much effort and dedication as war. He urged people to be proactive in promoting peace and to work towards creating a more peaceful world.
"The true source of rights is duty. If we all discharge our duties, rights will not be far to seek."
In this quote, Shastri highlights the link between rights and duties. He believed that the true source of rights is the discharge of one's duties. He encouraged people to fulfill their responsibilities and in return, their rights would be automatically fulfilled.
"Exciting news! Hindustan Times is now on WhatsApp Channels
Subscribe today by clicking the link and stay updated with the latest news!"
Click here!