Making to-do lists but not completing them? Here's how you can make a to-do list that works
Jan 21, 2023 06:34 PM IST
Using to-do lists can make you more productive, by allowing you to focus on what's most important while keeping an overview of everything that needs to be done
To-do lists are an important tool for staying organised and managing your time effectively. They help you keep track of tasks and deadlines, prioritize the most important tasks, and break down large tasks into manageable chunks. To-do lists can also help you stay focused and motivated, as they give you a clear sense of what needs to be done and what progress you've made. Additionally, they help to reduce stress and anxiety by allowing you to visualize your tasks and plan your time effectively. Using to-do lists can make you more productive, by allowing you to focus on what's most important while keeping an overview of everything that needs to be done.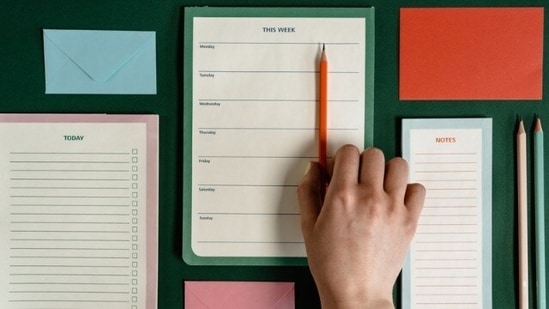 A lot of us make mistakes when making to-do lists including being unrealistic, not prioritizing tasks, not breaking down large tasks, not scheduling time for tasks, not regularly reviewing and updating the list and not using tools and apps. Creating a to-do list that works can be a bit tricky, but there are a few key principles you can follow to make it more effective.
1. Keep it simple: A to-do list should be easy to read and understand, so try to use simple language and keep each task to one line.
2. Be specific: Instead of writing "work on the project," write "work on X project for Y hours." Specificity will help you better plan your time and stay on track.
3. Prioritize tasks: Not all tasks are created equal, so it's important to prioritize the most important ones. One way to do this is to use the Eisenhower matrix, which separates tasks into four categories: important and urgent, important but not urgent, not important but urgent, and not important and not urgent.
4. Break down large tasks: Large tasks can be overwhelming, so break them down into smaller, manageable chunks. For example, instead of "Write a research paper," break it down into "Outline research paper," "Conduct research," and "Write the introduction."
5. Use a calendar: A to-do list is great for keeping track of tasks, but a calendar will help you plan your time more effectively. Use your calendar to schedule specific times for working on tasks, and make sure to schedule breaks and free time.
6. Regularly review: Regularly reviewing your to-do list and calendar will help you stay on track and make sure you're making progress on your tasks.
7. Be flexible: Not every day goes as planned, be ready to adjust your tasks according to your available time. Learn to say 'no' to unnecessary tasks, and keep buffer time to tackle unexpected tasks.
8. Have a separate 'Done' List: Keep a list of all the tasks you have completed. This will give you a sense of accomplishment and help you keep track of your progress.
9. Use apps or tools: There are several apps and tools available to help you create and manage your to-do lists, such as Todoist, Trello, and Evernote. These apps allow you to create and organize tasks, set reminders, and collaborate with others.
10. Finally, Create a reward system for yourself: This can be something as simple as taking a break after you complete a certain number of tasks, or treating yourself to something special after you complete a particularly difficult or time-consuming task.
Topics