Naatu Naatu, Gangnam Style, Macarena: Hits transcending language
Jan 23, 2023 02:19 PM IST
Be it in Telugu, Korean or Spanish, some viral dance hits have won a global fanbase with their catchy tunes and nifty steps reenacted on YouTube and TikTok.
The Telugu hit "Naatu Naatu" has become a global sensation. Recently, it won "Best Original Song" at the Golden Globes , India's first-ever victory at the awards. It beat entries by established heavyweights like Lady Gaga, Taylor Swift and Rihanna and is now shortlisted for the Oscars.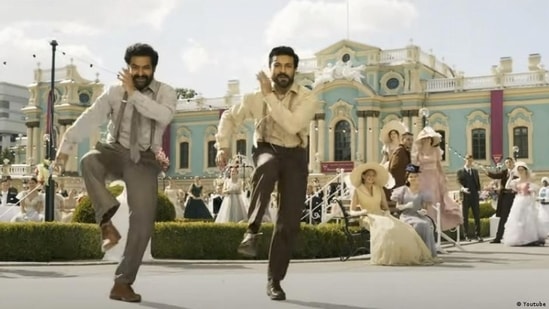 Bollywood superstar Shah Rukh Khan tweeted that he "woke up and started dancing to Naatu Naatu" to celebrate this victory, while renowned Indian music composer AR Rahman — who won an Oscar for his hit "Jai Ho" from the 2008 film "Slumdog Millionaire"— described the win a "paradigm shift" in a post on Instagram.
The fast-paced 4.5-minute song, which features in the 2022 Telugu-language film "RRR," had already become a viral hit in India when the blockbuster film was released last year — not least because it featured nifty choreography that inspired viral trends on social media within India and globally.
Its recent win has seen TikTokers from France to Japan reenacting the song's energetic moves on the social media platform. There's even a witty mash-up on YouTube of an old clip of comedians Laurel & Hardy dancing now to this song. (Also Read | Are your ears popping? Hard truths about corn, with Swetha Sivakumar)
The song's international popularity also underscores the fact that language is no barrier to enjoying music across borders. Alongside "Naatu Naatu," here's a look at some international hits that have had the world tapping to their rhythms — without really comprehending their lyrics.
'Naatu Naatu' (2022)
In Telugu — a language predominantly spoken in the South Indian states of Andhra Pradesh and Telangana — "Naatu Naatu" simply means "Dance Dance." The film "RRR," which stands for Rise, Roar, Revolt, was written and directed by SS Rajamouli and tells the story of two revolutionaries who fight against British rule in India.
The fast-paced "Naatu Naatu" happens during a garden party scene where the two protagonists Alluri Sitarama Raju and Komaram Bheem (played by actors Ram Charan and NT Rama Rao Jr respectively) dance arm-in-arm, thumbing their noses at British officials who'd humiliated them. What is noteworthy is that the song was shot in August 2021 with Ukrainian President Volodymyr Zelenskyy's official residence, Mariinsky Palace, serving as its backdrop.
In an interview with fellow Indian filmmaker Sandeep Reddy Vanga that was broadcast by the Indian media, Rajamouli said, "luckily, they gave us permission to shoot because the Ukrainian president was a television actor." The film features several other scenes that were also shot at various locations in Kyiv, prior to the war.
'Jerusalema' (2020)
Sung entirely in isiZulu, one of the official languages of South Africa, "Jerusalema" was a 2019 gospel-influenced house song by South African musician and producer Master KG, and performed by singer-songwriter Nomcebo Zikode. Having first become a summer hit in the country upon its online release, a music video in December 2019, which drew half a billion views on YouTube, cemented its hit status.
However, "Jerusalema" went viral globally after a February 2020 video showed Fenomenos do Semba, an Angolan dance troupe, effortlessly dancing to the song while holding plates of food. This spawned the #JerusalemaChallenge, a dance challenge that saw everyone from priests to police officers — many by then in global post-COVID-19 lockdowns — posting videos of themselves doing the dance in countries as diverse as Portugal, Romania, Jamaica, Canada and Sri Lanka.
'Gangnam Style' (2012)
Probably the only lyrics the non-Korean speakers among us could sing along to in this viral K-pop song were, "Op op op op — Oppa Gangnam Style." "Gangnam Style" is a Korean term referring to the lifestyle associated with the Gangnam District of Seoul where people are trendy, hip and exude a certain supposed 'class.' Sung by South Korean rapper Psy, the accompanying video of his antics and unusual dance steps made him a cultural phenomenon.
After hitting No. 1 in South Korea, the song went viral worldwide in August 2012, peaking at the second spot on the Billboard Hot 100 in the United States and eventually topping charts by year's end in more than 30 countries including Australia, Canada, Germany, Spain, and the United Kingdom.
On the Ellen de Generes Show in September 2012, Psy taught singer Britney Spears his dance, which he described as "pretending to bounce like riding on an invisible horse." Besides winning Best Video at the 2012 MTV Europe Music Awards, the Guinness Book of Records also pronounced "Gangnam Style" as the first ever YouTube video to hit one billion views.
'Macarena' (1996)
In July 2020, digital publication The Pudding conducted a study on the most iconic 1990s songs that are most known to Millennials and Gen Z. "Macarena" placed eighth highest in recognizability. The dance song by Spanish duo Los del Rio was originally penned as an ode to a flamenco dancer and released in Spanish in 1993. But it was the 1996 remixed version by the Bayside Boys, featuring English verses and a Spanish chorus that made waves globally. The music video featuring a culturally representative bevy of beauties dancing its now famous steps turned it into a viral sensation — predating the TikTok era.
So, who is Macarena actually? She's basically a girl who decides to "give her body some joy" — as translated from the Spanish chorus. Ironic since an oft-repeated English line in the remixed version goes, "I'm not trying to seduce you."
'Lambada' (1989)
Way before YouTube and social media platforms were even conceived, the "Lambada" raised eyebrows and made waves worldwide. Coming from a Portuguese word that refers to the wave-like motion of a whip, the music video that accompanied French pop group Kaoma's 1989 hit saw couples engaging in an erotic dance that originated in Brazil.
Dancing in very close proximity, they synchronically gyrated their hips to the song's beat. No surprise then that it was also nicknamed "the forbidden dance" by certain quarters — with some countries like Malaysia even banning the video from being aired on public television for fear of corrupting public morals.
Following its release in July 1989, the Portuguese song steadily topped charts in Europe, Latin America, and finally, the United States, where it spent seven weeks at the top spot of the Billboard Hot Latin Chart.