Sanjay Leela Bhansali a rare auteur still true to his roots, says Anupama Chopra
Mar 12, 2022 04:37 PM IST
His latest film, Gangubai Kathiawadi, celebrates elements of Hindi cinema that are at risk of being lost.
"Even today I do not go to a shoot without listening to five songs of Lata Mangeshkar on the way," Sanjay Leela Bhansali told me in a recent interview. "All my nuances of filmmaking come from my understanding of Lata Mangeshkar's music. That is the great artist we have and that is the legacy," he added.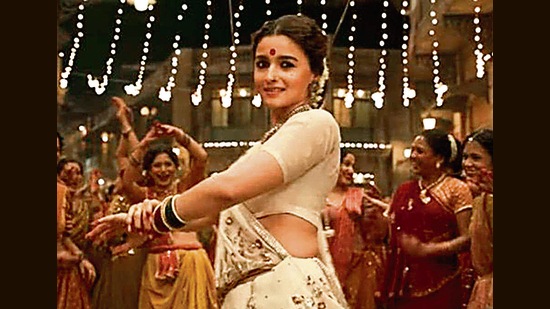 This made me wonder: Is there another director working in Hindi cinema today who is as steeped in Indian film history and tradition as Sanjay is? He has spoken often in interviews about how his father, producer Navin Bhansali, made him watch Mughal-e-Azam 18 times as a child. He also had Sanjay study the camera's movements in the films of V Shantaram, who remains a major influence. Sanjay soaked in the cinema of Raj Kapoor and Guru Dutt, studied how Raj Khosla and Vijay Anand crafted song sequences.
These lessons from the masters echo in his films. There's pathos and yearning, spectacle and grandeur, dramatic arcs and heightened emotions. I don't know another contemporary director who would begin a film with the sound of Begum Akhtar singing the iconic Mirza Ghalib ghazal Yeh Na Thi Hamari Qismat, or weave Dev Anand into a screenplay as an additional character, or use Sahir Ludhianvi's classic line — Jinhe naaz hai hind par, woh kahan hai? — to create a mic-drop moment as Sanjay does in Gangubai Kathiawadi.
Whether or not you admire the baroque excesses of the worlds that Sanjay creates, there is little doubt that he is the last custodian of a rich cinematic heritage. Even when he's retelling a Hollywood tale, as he did in Black (the 2005 film was inspired by The Miracle Worker), Sanjay's movies have a resoundingly desi heart. His visual grammar and narrative beats are unmistakably and unapologetically rooted in the Hindi cinematic tradition.
This matters because so much of Bollywood's current output feels derivative. Think of the cold minimalism of Gehraiyaan (Shakun Batra is a self-professed fan of Woody Allen) or the stylised but emotionally inert plotting of Looop Lapeta (a remake of the iconic German film Run Lola Run) or the simplistic, middling metaphors of Dhamaka (a remake of the South Korean thriller The Terror Live).
One of my biggest concerns is the slow phasing out of lip-synced songs. Directors, raised on a steady diet of foreign films, are finding it harder and harder to seamlessly execute situations in which characters break into song. There is an awkwardness around song and dance today that is just sad, given that it is one of the most integral and unique features of Indian storytelling. Songs are increasingly being relegated to background music, or characters are being written as singers so that they can be written into the plot.
Meanwhile, Sanjay is staging songs like set-piece highlights. Look at the movements of the camera and the bodies in Dholida, or in my new favourite, the single-shot song Meri Jaan, shot entirely with the characters Gangubai and Afsaan sitting in the back seat of a car. The film also features a traditional qawwali Shikayat, complete with background singers dressed in identical purple and gold saris.
In the recent interview, Sanjay told me: "We've become Spanish, Korean, Iranian, Italian. Why is it so fashionable to be that and not this? We have wonderful filmmakers but we have to keep our identity, find our language, our voice, our way of telling the story."
I, and it seems the audience, agree. Gangubai Kathiawadi is nearing revenues of ₹200 crore worldwide and is a bona fide hit. Old school is the new school.
"Exciting news! Hindustan Times is now on WhatsApp Channels
Subscribe today by clicking the link and stay updated with the latest news!"
Click here!
Continue reading with HT Premium Subscription
Daily E Paper I Premium Articles I Brunch E Magazine I Daily Infographics