The Sporting Life: Here's to a year of resurrections, says Rudraneil Sengupta
Jan 21, 2023 03:44 PM IST
What a thrill to see Arsenal and Manchester United stride out of their slumps. It's a victory of coaches, players and team work.
It is one of the most wonderful things in sport to witness the resurrection of a player or a team. The Premier League is giving us the gift of two tales of remarkable rejuvenation and courage: those of Arsenal and Manchester United.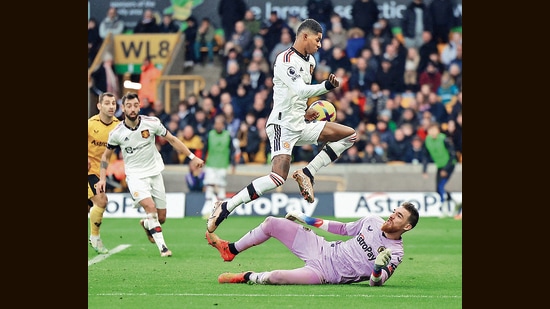 When Mikel Arteta was appointed Arsenal manager in 2019, he was taking over a club still struggling from the departure of Arsene Wenger. It was a brave choice. Arteta, a former star player with the club, was a rookie in the world of management. His only experience in this area was as Pep Guardiola's assistant on a spectacular Manchester City side.
As Arteta worked to rebuild a club that had long been on the slide, he had to endure two difficult years without much good news, with player rebellions and bad blood. Yet, during a 2-0 defeat at the hands of their North London rivals Tottenham Hotspur in 2020, then Spurs manager Jose Mourinho told journalists: "tactically they (Arsenal) are very good, very well organised… I can imagine that tomorrow… the headlines will be about them not being in a good position on the table (they were 15th). But I believe with these players, with Mikel, Arsenal will be Arsenal again."
This season Arsenal stand at the top of the League for the first time in absolutely ages, eight points clear of the mighty Manchester City, playing with mesmeric flow and an attacking creativity that make for some gorgeous football.
Meanwhile, on the field for Manchester United is the resurgent English forward Marcus Rashford, who until recently looked so jaded that supporters would have been happier seeing him off the field than on it. He seemed all set to join the ranks of United has-beens. Not an unusual occurrence for a club in perpetual turmoil, where managers have come and gone with alarming frequency ever since the end of the Alex Ferguson era in 2013.
All that has changed with Erik ten Hag, who came in as manager last year in what seemed like an absurd career choice at the time. But he knew what he was doing; knew what was needed. He took a stand, over and over. Cristiano Ronaldo would stay on the bench (until he eventually quit out of frustration). Antony, signed for 90 million pounds, would come on when needed, when he fit the tactical scheme of things, and not to justify a price tag. Harry Maguire, the world's most expensive defender and club captain, would remain benched till he could find form.
It's now all paying off, starting with stunning results from two absolutely inspired signings. Casemiro's decision to leave Real Madrid for United last year was met with widespread ridicule and consternation. Christian Eriksen had suffered a cardiac arrest on the field during a Euro 2020 match a few months before ten Hag scooped him up. Between the two of them, Casemiro and Eriksen have made United's midfield a breathtaking scene of visionary passing.
Rashford, who last year had the haunted look of a player destined to miss the goal, which he frequently did, can't stop scoring, seemingly destined to be at the end of every crazy throughball from Casemiro or Eriksen (or Bruno Fernandes, for that matter); and destined to find the back of the net. He is scoring with a speed and clinical efficiency reminiscent of Ronaldo circa 2007. His winner in last week's 2-1 win over mighty rivals Manchester City was the seventh game in a row in which he notched a goal. He can't stop scoring. Neither can United.
They now have six wins on the trot, a derby in the bag, and are third in the league, just a point behind City.
United now know how to suffer, and not just give up. In the derby game last week, City were the first to score, and they had overwhelming possession (71%). United held their nerve, absorbed the blows, and hit back when they could.
Ten Hag has built a team, just like Jurgen Klopp had done so spectacularly with Liverpool before their current, puzzling predicament. A team that works together, executes plans with commitment, adapts beautifully to the situation, whether they need to hang tight for a win against United or Arsenal, or dominate against teams like Bournemouth.
Here's to a year full of the joys of revivals.
Get a colourful deal with 70% off on HT Premium annual plans
Enjoy Unlimited Digital Access with HT Premium