Get to know... Varun Duggirala
Jan 28, 2023 09:09 AM IST
The founder of Plot Device entertainment, author of Everything Is Out of Syllabus, podcaster and Star Wars geek, on what he's listening to, making scrambled eggs, and living in Birkenstocks
Name: Varun Duggirala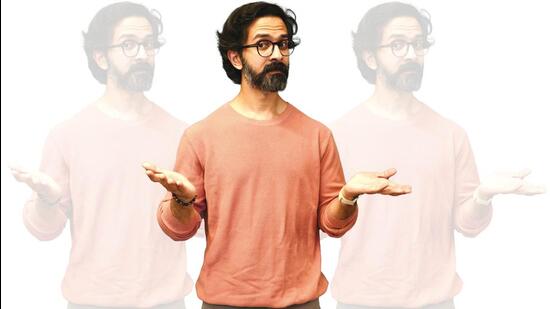 Age: 40
Occupation: Co-founder of The Glitch, author of Everything Is Out of Syllabus, podcaster, geek
Currently, I am: Taking a pause
High point in life: Becoming a father.
Low point in life: Being unsure of where I was headed in the first year of the pandemic.
On my playlist: A lot of Jose Gonzalez. Such a happy vibe. Also, Anuv Jain. I'm obsessed with the theme music of Last of Us. And, When We Feel Young by When Chai Met Toast. We call it our family song!
On my speed dial: My wife, Pooja. She's the CEO of my life.
Today I'm craving: A vada pao.
Next big splurge: Will actually be when Birkenstocks go on sale. I live in Birkenstocks.
App I check before going to bed: Calm. I listen to sleep meditation every night before bed. And my new favourite app called Imprint, it's a great way to visualise and revise what you've read.
Advice I'd give my 18-year-old self: Don't judge yourself more than the world does.
A secret skill I have: I make a fabulous, fluffy scrambled eggs, using a Gordon Ramsay hack.
My favourite Sunday memory while growing up: Igrew up in Kakinada in Andhra Pradesh. On Sundays, we'd drive to the beach, where it would be reasonably empty, and I'd run around with my folks. On other days, I'd ride there by myself, sit and look at the ocean.
My most star-struck moment: Growing up, I was a huge Amitabh Bachchan fan and early in my career, I was working the Bollywood beat for a music channel. I got to meet him. He introduced himself by saying 'Hi I'm Amitabh,' and I had to stop myself from saying "duhh".
My favourite bad habit: I'm the worst person to have around if you have 5-Star, Eclairs or any old-school chocolate. I'll eat all of it. Also, I shake my leg too much.
If I could travel back or forward in time: I'd: want to be outside the Chinese Theatre in Hollywood when the first Star Wars came out.
The biggest perk of being an entrepreneur is: You get to connect the dots yourself instead of having someone else tell you how.
I won't leave the house without: My AirPods.
The best thing about fame: I'm not famous, but okay... You can genuinely make people feel heard.
The worst thing about fame: You often feel pressured to run behind every shiny object instead of focusing on the things that matter.
Follow @modwel on Instagram & @UrveeM on Twitter
From HT Brunch, January 28, 2023
Follow us on twitter.com/HTBrunch
Connect with us on facebook.com/hindustantimesbrunch