Humour by Rehana Munir: How does that make you feel?
Jan 21, 2023 09:32 AM IST
From classical to radical, there's an abundance of therapies to choose from
Every few years, an old fantasy stirs my dormant demons. I begin, again, to harbour the desire to find a therapist, and renew the process that I began exactly a decade ago. I'd walked into my therapist's office back then primed for classical psychoanalysis: My childhood was invented keeping future therapy in mind. In adolescence I'd studied literature, and even elementary psychology, which made Freud a looming presence in my tortured brain. Finally, existential leanings, coupled with chronic migraines, had made me the perfect offering for an attentive shrink. But after a year-and-a-half of bi-weekly sessions, I quit, despite the warnings of my excellent analyst. Is it time to return? I wonder.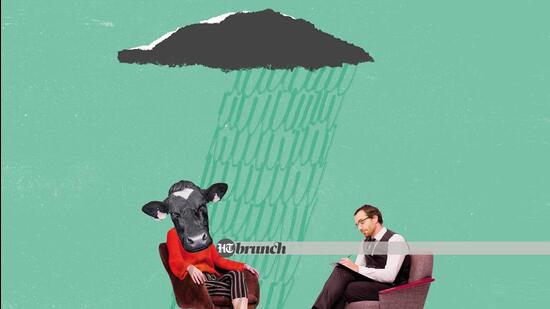 Freud goes to Hollywood
I can identify two possible triggers for the revival of the therapy fantasy. I've recently been watching Frasier reruns. (Niles Crane, Frasier's neurotically fastidious brother, pining for his father's physical therapist, Daphne, while lamenting the coldness of his never fully-revealed wife, Maris, is my all-time-favourite shrink – and it has nothing to do with his professional skills.) More to the point, I just watched Stutz on Netflix, a documentary in which comedic actor Jonah Hill puts the spotlight on his real-life therapist of many years, Phil Stutz.
It's quite the ride. First off, Stutz dispels the very foundations on which classical psychoanalysis, or talk therapy, rests. He has no patience for a long-drawn process without specific directions from the shrink. He tells Jonah Hill what to do in times of crisis or confusion—which is the antithesis of the kind of therapy I am attuned to. Moreover, I found much of Stutz's process to be cringingly Hollywood. Which makes sense, considering his clients are often showbiz folks looking for quickly enforceable goals in the face of bonkers pressure. And yet, to watch the two men relate to one another without any of the barriers that Freudian therapy erects (for what is a column about therapy without a phallic pun?) was cathartic in itself.
The significant (m)other
The documentary, which is about breaking mental barriers, does a good job of breaking the cinematic fourth wall too, allowing us a glimpse into the artifice involved in the interviewing process. Nicely meta. What's more, The Mother, who in comic convention is the progenitor of all psychological issues, makes an actual physical appearance in the docu. What next—the naked-on-stage nightmare re-enacted?! In Stutz, Hill's mother bravely stands in for every mother who has ever been conjured in a therapist's office with a heavy heart and slippery tongue. She struck me as being intelligent and thoughtful, but don't tell Jonah Hill I said that. It might be a trigger.
What stays with you is Stutz—part Parkinsonian savant, drawing simplistic yet instructive sketches in a shaky hand; part ribald older relative, making Hill cackle unabashedly. This here is no Freudian excavator or CBT stickler. He's a healer in a hurry to rid you of your mental blocks like a plumber using drain cleaner to fix a clogged sink. The Tools, as Jonah Hills calls them, referencing Stutz's book by the same name with Barry Michels. I'm not sure it works. But Hill, his actual client, does, and that's what's important.
What's therapy really?
Scrolling comics online before bed is perhaps not what the shrink ordered, but I do it anyway. Poorly Drawn Lines and New Yorker Cartoons provide the kind of wry humour that day's end begs for, but there's a special place in my reality-addled brain for Peanuts—Charles M. Schulz's crew of kindergarten kids and other animals. I'm drawn more and more to the bossy Lucy Van Pelt, Charlie Brown's friend, and Linus and Rerun's older sister, who sometimes runs a lemonade-style booth where she dispenses psychoanalysis for five cents a pop. The perennially depressed and anxious Charlie Brown often suffers advice that ranges from the astute to the absurd. Such wicked fun.
Then there are those who call a variety of pleasurable/relaxing activities "therapy", from knocking back pints at the bar to watching their roses bloom, slow-cooking eggs to shooting virtual planes down. The old me would correct them, but I recently saw an Insta post that asked this simple yet chilling question: "Is it toxic to tell someone they need therapy?" A question to take to therapy, no doubt.
Follow @rehana_munir on Twitter and Instagram
From HT Brunch, January 21, 2023
Follow us on twitter.com/HTBrunch
Connect with us on facebook.com/hindustantimesbrunch