"Peace of mind over money or fame," says Satyadeep Misra
May 30, 2021 07:03 AM IST
The actor-lawyer talks about considering being a dog walker as an alternative profession in his early days in Mumbai and his OCD which prevents him from having breakfast in bed, in an intimate chat
Former civil servant and corporate lawyer, Satyadeep Misra moved to Mumbai in 2009 at the age of 35 and started auditioning to pursue his acting dreams. "I did not know a soul in the industry. It was a great decision and I've zero regrets!" he exclaims. Today, he rides the OTT wave as he completes a decade as an actor, well known for his roles in No One Killed Jessica, Masaba Masaba and his latest, His Storyy. "Follow your own path and learn to be patient" are the only two pieces of advice he has for anyone trying to make it here. When Satyadeep isn't in front of the camera, he is the happiest riding motorcycles across the country!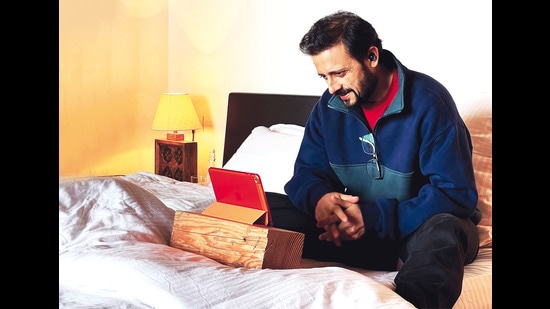 Tell us three things very few people know about you.
1. I'm very happy being on my own for long periods of time. 2. I have a really low resting heart rate... it always scares doctors! 3. In my early years in Mumbai, I considered being a dog walker as an alternative profession!
What's the last thing you do before sleeping?
Read on my iPad which has a Kindle on it. Or watch some motorcycling-related videos on YouTube. Or spend some time on Instagram before I go to bed.
What is your perfect idea of breakfast in bed?
I have too much OCD to ever be able to enjoy breakfast in bed. The thought of bread crumbs on my sheets... oh lord!!!
Tell us one dream that you constantly saw as a child or while growing up?
That I have walked into a storage space in my grandparents' house where I discover a skeleton costume on a hanger. It used to really scare me as a child. But as I grew older, the minute I saw that visual, I knew I was dreaming!
If you had to describe yourself in a hashtag, what would it be?
#WisdomOverIntelligence
Bedside stories
What is the first thing you do when you wake up?
Five minutes of meditation before I pick up my phone or get out of bed.
Which is your preferred side of the bed?
The left side.
Last person you usually text goodnight to?
Very rarely do I message anyone goodnight. It's usually my manager about things to do the following day.
This or that?
Movies or web series?
Web series.
Big party or small gathering?
Small gathering.
Money or fame?
Peace of mind! And then either of them (or even both) are an added bonus.
From HT Brunch, May 30, 2021
Follow us on twitter.com/HTBrunch
Connect with us on facebook.com/hindustantimesbrunch