Winter hair care routine: Tips and tricks to boost hair health this cold season
Jan 24, 2023 03:12 PM IST
Want to protect your precious locks from harsh winters? Following this simple winter hair care routine can truly help reverse the damage and offer the nourishment your hair and scalp need.
The wintry cold winds can take a toll on the moisture level of our hair hence, when the days get extremely cold and dry in winter, our hair demands extra care and attention. The scalp turns flaky and the lengths become brittle and rough but following a few simple steps can truly help reverse the damage and offer the nourishment your hair and scalp need.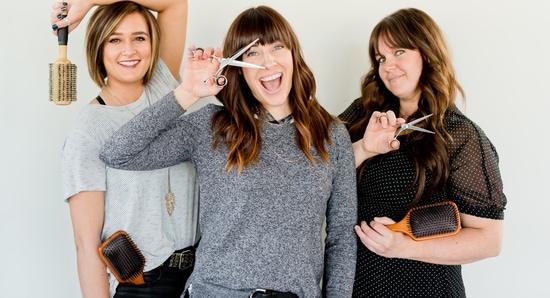 In an interview with HT Lifestyle, Rob Smith, Dyson Senior Principal Hair Care Scientist, suggested a few hair health tips and tricks to build into daily routine to protect our precious locks from harsh winters -
Stay tuned with breaking news on HT Channel on Facebook.
Join Now
1. Avoid leaving the house with wet hair: Hair is weaker when wet as the bonds that give it strength is disrupted by water. This makes it much easier to damage. If you use a good hair dryer, you can dry and style hair at the same time, helping you look the way you want and avoid leaving your hair in a weakened state for extended periods of time.
2. Shampoo less, condition more: During the colder months your scalp can become drier and itchier. Shampooing can remove the natural oils that your scalp produces to help keep your scalp moisturised. So, using a milder shampoo or reducing the frequency of washing can help avoid this.
3. Dry shampoo: Some dry shampoos can be used for styling as they give the same benefits of back combing but without damage to the cuticle. It can help to create a beachy/voluminous look or mattify the hair. A texturising spray, or some dry shampoos, can leave a powdered residue in your hair.
4. Hairspray, mousses and oils: Hairspray and mousses work like glue to help with style retention by holding the hairs together in your desired style. High-hold hairsprays change how your hair feels because the strands are held more tightly together, so your hair is less able to move around. Natural oils and silicones can be used on your hair to reduce water from getting in, keeping your style in place longer. Too much however can weigh down your hair and have the opposite effect.
5. Static electricity: This can increase in the colder seasons as lower humidity means hair will hold less moisture. This can cause hair to be visibly frizzier and more unruly. Over-drying your hair can also result in increased frizz. To help control static and frizz, avoid using a plastic hairbrush, which can cause static build-up, and use a hair dryer with controlled airflow and an ioniser.
Bringing her expertise to the same, Smita Baishakhia, Cosmetologist at St. Botanica, recommended -
1. Use products with nourishing natural ingredients: To combat the dryness, explore products with ingredients that offer extra nourishment and protection. For instance, Moroccan argan oil. Loaded with antioxidants, this exotic ingredient's high quantity of natural Vitamin E helps in making the hair smooth, frizz-free, soft and manageable. It also helps revitalize the scalp.
2. Use hair masks: Whether going the DIY route or splurging on premium, high-quality products–a good hair mask goes a long way! Incorporating a nourishing hair mask into your hair care routine gradually improves overall hair quality. Whether your hair is dry, normal or oily, using a hair mask while shampooing once a week works well. Hair masks are a great way to add extra nourishment during the dry winter months, and leave the hair feeling soft and shiny.
3. Avoid washing your hair with hot water: As much as we look forward to steamy hot showers during winter, hot water isn't good for your hair or scalp. It dries out the scalp, loosens the hair follicle, leaving your hair brittle and prone to falling or breaking. It is best to wash your hair using lukewarm or cool water. You can also follow this up with a hair serum which includes natural ingredients like argan oil, for an extra layer of protection, even when you subject your hair to heat.