5 ways to make kites for Uttarayan festival
Jan 12, 2023 07:56 PM IST
Uttarayan 2023: From making the diamond shape of the kite to learning to make the dowel, and the tail, here is a step-by-step guide of making a kite at home.
Uttarayan 2023: The special time of the year is here. In various parts of the country, at this time, the harvest festival takes place. Known by many names, the harvest festival brings with itself prosperity, happiness, the sense of togetherness and the hope of a better tomorrow. With the winter slowly coming to an end, and the summer approaching, this is the time to celebrate the last few cold days of the year. Several parts of the country bask in festivities. Pongal is celebrated in Tamil Nadu, while Assam celebrates Magh Bihu, and Punjab celebrates Lohri. Around this time of the year, Gujarat also celebrates one of their major festivals – Uttarayan. Also known as International Kite Festival, Uttarayan is observed by flying kites in the sky. People also arrange kite competitions on this day.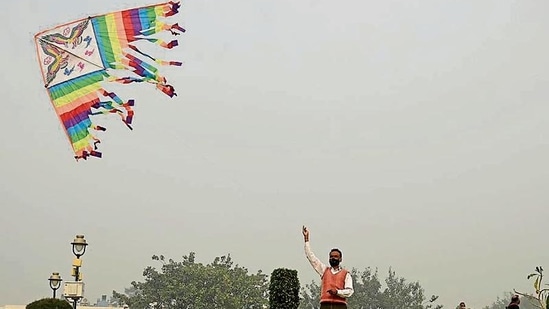 Kites are believed to have been introduced to the world by India. The sport of flying kites was popular among kinds, which later was picked up as a form of amusement by the Nawabs. Now kite flying competition is a major sport in Gujarat and many other parts of the country.
ALSO READ: Uttarayan 2023: Date, history, significance, celebration of kite flying festival
As we gear up to celebrate Uttarayan and watch the day sky become a tapestry of multicoloured kites flying, let's have a look at how we can make our own kites at home.
Step 1: Take a paper and ensure that it is folded in half. Then make three dots in the form of an isosceles triangle, and with the ruler, make a straight line. Flip over and trace the pen line to make a matching triangle shape.
Step 2: Cut along the two edges and open to reveal a diamond shaped kit.
Step 3: Lay the dowel in the center of the kite to form a T structure. Cut the extra edges out to match the length of the kite and tape it properly.
Step 4: Make a small hole at the junction of the dowels crossing. Tie an end of a thread at that spot and tie the other end to a piece of board that you can hold in your hand while flying the kite. Tape the thread properly.
Step 5: Use the scrap paper left from the kite to make the tail, and attach it to the end of the dowel.