Basant Panchami 2023: Shubh muhurat, puja vidhi, rituals, samagri and all you want to know
Jan 25, 2023 02:36 PM IST
Basant Panchami 2023: The auspicious festival of Basant Panchami will be celebrated with great fervour and enthusiasm on January 26. From shubh muhurat to puja rituals, here is all you want to know about the festival.
Basant Panchami 2023: Basant Panchami, also known as Vasant Panchami, is a Hindu festival that will be celebrated with great fervour and enthusiasm on January 26. The festival is about new beginnings and is considered an auspicious day in India. It is observed on the first day of spring, which is the fifth day of the month of Magha. In addition, Basant Panchami heralds the beginning of Holi preparations, which start forty days following Basant Panchami. The goddess Saraswati, who is the patroness of learning, music, and the arts, is honoured on this day. It is also the day when we celebrate with our near and dear ones, over food and togetherness. From shubh muhurat to puja rituals, here is all you need to know about the festival. (Also read: Basant Panchami 2023: Celeb-inspired yellow outfit ideas to brighten up your wardrobe )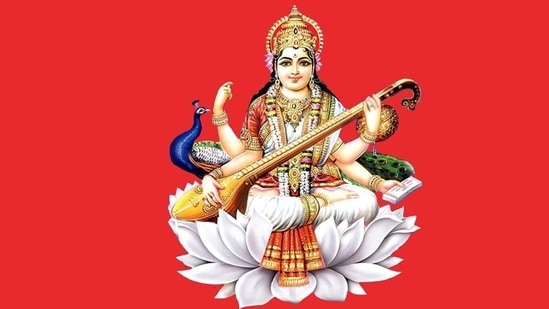 Shubh muhurat:
This year it will be a double celebration as the auspicious Basant Panchami festival will be observed on January 26 along with Republic Day. According to Drik Panchnag, Panchami Tithi will start on January 25. The Vasant Panchami Muhurat will be from 07:12 AM to 12:34 PM with a duration of 05 hours and 21 minutes on January 26.
Vasant Panchami Madhyahna Moment: 12:34 PM
Panchami Tithi Begins: 12:34 PM on January 25, 2023
Panchami Tithi Ends: 10:28 AM on January 26, 2023
Puja timing :
Goddess Saraswati is worshipped on Vasant Panchami day which is also known as Shri Panchami and Saraswati Panchami. Although there is no special time to perform Saraswati Puja on Vasant Panchami day one should make sure that Puja is done when Panchami Tithi is prevailing. According to Drik Panchang, Purvahna Kala, which is the time between sunrise and midday, is ideal for Saraswati puja.
Puja samagri:
Among the things needed for Basant Panchami puja are mango leaves, incense sticks, akshata or rice, ashwagandha or fragrant orange powder, chandan, lamps, ghee, jaggery, haldi, holy Ganga water, and fruits.
Puja vidhi:
The festival is dedicated to the goddess Saraswati, who is considered the patron goddess of learning and is revered by students, scholars, and artists. On this day, people visit temples and offer prayers to the goddess, seeking her blessings for wisdom, knowledge, and creativity.
In order to worship the Goddess Saraswati, many people rise early and dress in yellow on this day, as it is the colour associated with the goddess Saraswati. Yellow flowers and sweets are also offered to the goddess as part of the puja rituals. The puja also includes the recitation of mantras and hymns in praise of the goddess.
It is also a common practice to initiate children into the world of letters by writing their first words on this day. This is known as "Vidya Arambha" and is considered an auspicious occasion for children to begin their education.
In addition to the religious significance, Basant Panchami is also celebrated as a festival of kites. People, especially children, fly kites on this day, and it is considered a fun and festive way to mark the arrival of spring.