Lohri 2023: 6 traditions of the harvest festival you should know about
Jan 11, 2023 06:40 PM IST
Lohri, the harvest festival of Punjab is just around the corner, and it's time to get ready for the festivities. Here are some traditions you should know about.
Lohri 2023: Lohri, the harvest festival of Punjab is just around the corner, and it's time to get ready for the festivities and make all the preparations from getting the bonfire ready to planning recipes for a lavish feast. Lohri is a popular Hindu and Sikh festival celebrated in India mostly in states of Punjab, Himachal Pradesh, Haryana and Jammu. Every year, it is celebrated on the 13th day of the month of Paush or Magh, which falls during the winter solstice. Lohri will be celebrated on January 13 this year. It is a joyous occasion that marks the end of the winter season and the beginning of the harvest season. (Also read: Lohri 2023: Who was Dulha Bhatti and how's he related to Lohri? Know the story)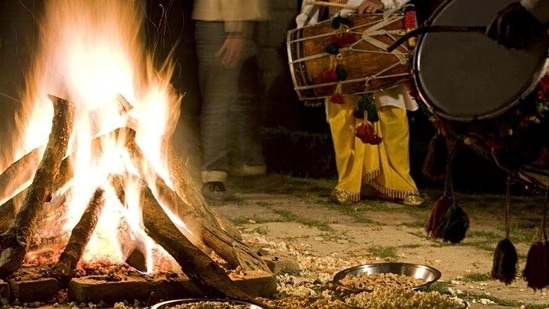 For many, Lohri is a time to gather with family and friends, exchange gifts, and enjoy festive food and music. But it's also a time to remember and celebrate the rich traditions associated with the festival. Here are seven important traditions of Lohri that you should know about.
1. Bonfire: The main attraction of Lohri is the bonfire. People gather around the bonfire, sing and dance, and offer prayers for a prosperous harvest season. People also throw sesame seeds, popcorn, and other grains into the fire as an offering to the gods.
2. Prasad: Prasad is a traditional offering made to the gods. The Lohri prasad comprises of sweets and savouries such as gajak, til laddoo, and rewri. People offer prasad to the gods and then share it with their family and friends.
3. Kite flying: Kite flying is a popular Lohri tradition. People gather at rooftops and fly kites of different shapes and sizes. It is believed that flying kites on Lohri brings good luck and prosperity.
4. Folk songs and dances: Folk songs and dances are an integral part of Lohri celebrations. People sing and dance to traditional songs such as "Sunder Mundriye," "Satti Satrangi," and "Jind Mahi."
5. Gift exchange: On Lohri, people exchange gifts such as clothes, sweets, and money. This is a way of expressing love and gratitude to family and friends.
6. Pray for a good harvest: People pray for a good harvest season during Lohri. They offer their prayers to the gods for a plentiful harvest and prosperity.
"Exciting news! Hindustan Times is now on WhatsApp Channels
Subscribe today by clicking the link and stay updated with the latest news!"
Click here!