Pongal 2023: From Bhogi Pongal to Kaanum Pongal, all you want to know about the four days of festival
Jan 13, 2023 11:53 AM IST
Pongal 2023: The important South Indian festival of Pongal will be celebrated from January 15 to January 18 this year. Here is all you want to know about the four days of the traditional harvest festival.
Pongal is a traditional harvest festival celebrated in South India, particularly in the states of Tamil Nadu, Andhra Pradesh, and Telangana. The important South Indian festival of Pongal honours Lord Surya Narayan, the ruler of the planets, and is associated with crop harvesting. The festival is known as Makar Sankranti in northern India. The four-day festival will be celebrated from January 15 to January 18 this year and will be marked by a variety of rituals and traditions, including the offering of milk rice to the sun god and the popular bull-taming sport of Jallikattu. Here is all you want to know about the four days of the festival known as Bhogi Pongal, Surya Pongal, Mattu Pongal, and Kanum Pongal. (Also read: Pongal 2023: Date, history, significance and celebration )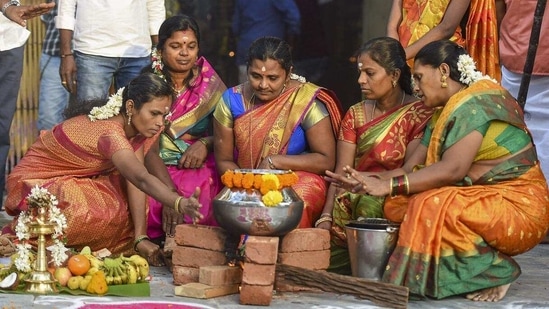 Everything you want to know about the four days of Pongal:
Day 1: Bhogi Pongal
Bhogi / Bogi, which falls on January 14th this year, marks the beginning of the Pongal festival celebrations. Indra, the Lord of the Rain, is honoured on the first day in gratitude for the fertility of their agricultural land. Similar to the Lohri festival in Punjab, this day's events were centred around a bonfire. On this day, people worship the sun god as well as the agricultural tools that are used to harvest crops. People tidy up their homes and use rangoli or "Kolams" to beautify them. Red dirt with a paste of rice flour and water is used to create the lovely Pongal Kolams. Additionally, lamps and fresh flowers are used in home decorations.
Day 2: Surya Pongal
The main day of the Pongal celebration, which is observed as Surya Pongal, is the second day which will be observed on January 15. Fresh milk is boiled till it crosses the vessel's edge to start the day. This is one of the key traditions of the Pongal celebration and is said to bring prosperity. On this day, people in Tamil Nadu prepare the traditional sweet dish "Pongal" out of rice, milk, and jaggery. This is presented to the deity as prasad. Women congregate at a certain location in several areas of Tamil Nadu to execute the ceremony collectively. Other items like sugarcane, coconut and bananas are also offered to the Sun god.
Day 3: Mattu Pongal
The third day of Pongal, known as Mattu Pongal, which is devoted to the worship of cows, is on January 16. Farm animals, like cows and oxen, are honoured on this day since they enable farmers to successfully grow and harvest their crops. The farm animals are bathed and then elegantly decorated for Mattu Pongal. Their horns are frequently painted and decorated with garland and then "Pongal" is offered for cows and oxen. On this day, bullfights, also known as Jallikattu, are organised. In Tamil Nadu's Madurai district, the bull-taming sport is well-known.
Day 4: Kaanum Pongal
The fourth day or last day of Pongal is known as Kaanum or Knau Pongal which will be celebrated on January 17. Kaanum Pongal is also referred to as Karinaal in some regions of Tamil Nadu. On this day, people worship the Sun God and offer food and Sarkarai Pongal. In order to represent sweetness and joy in life, sugarcane is dedicated to the deity as well as exchanged amongst humans. During Kaanum Pongal, people visit their loved ones and distant acquaintances. On Kaanum Pongal, people perform traditional dances and songs from the region.
Follow more stories on Facebook & Twitter
"Exciting news! Hindustan Times is now on WhatsApp Channels
Subscribe today by clicking the link and stay updated with the latest news!"
Click here!