Subhas Chandra Bose Jayanti 2023: 8 inspiring quotes by Netaji on his 126th birth anniversary
Jan 21, 2023 03:06 PM IST
The 126th birth anniversary of India's iconic freedom fighter Subhas Chandra Bose is just around the corner. Ahead of Subhas Chandra Bose Jayanti and Republic Day 2023, here are 8 inspiring quotes by Netaji to fill you with patriotic spirit
One of the most celebrated freedom fighters of India, Netaji Subhas Chandra Bose was born on January 23, 1897 at Cuttack in Odisha and his birthday or Subhas Chandra Bose Jayanti is being celebrated as 'Parakram Diwas' (day of valour) since last year. A warrior who had to wage the freedom struggle, Bose was in Germany in the year 1942 when he earned the honorific title 'Netaji', meaning "Respected Leader" in Hindi, by the Indian soldiers of the Azad Hind Fauj or the Indian National Army and by the German and Indian officials in the Special Bureau for India in Berlin.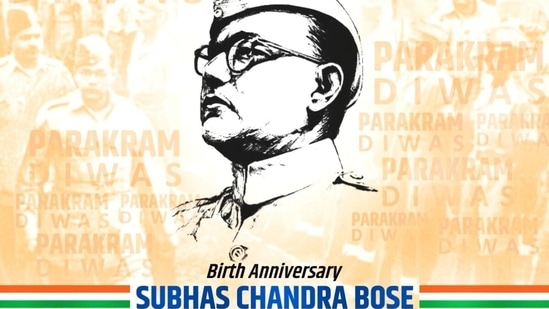 In 1923, Bose was elected the President of the All India Youth Congress and also the Secretary of Bengal State Congress and was regarded as a vigilant and charismatic youth icon in the Indian National Congress. Bose was arrested countless times, and deported to Burma (Myanmar) in 1925 because he was suspected of connections with secret revolutionary movements.
He took over as the elected President of Congress in 1938, stood for unqualified Swaraj (self-governance) and the use of force against the British which then combated against Mahatma Gandhi and his views. Bose soon resigned from the presidency and formed the All India Forward Bloc, a faction within the Indian National Congress and aimed at consolidating the political left but was arrested again, and released following a seven-day hunger strike but Bose's house in Calcutta was kept under surveillance by the CID.
In 1941, during his house arrest, Bose set the scene for his escape to Nazi Germany via Afghanistan and the Soviet Union. He is said to have died from third-degree burns when his plane crashed in Taiwan on August 18, 1945 however, there was a theory according to which some people did not believe that the crash had occurred and felt that Bose would return to gain India's independence.
Netaji's death is one of the most discussed and mysterious deaths in India, which has led to theories and conspiracies regarding his possible survival after his disappearance in 1945. Ahead of Subhas Chandra Bose Jayanti and Republic Day 2023, here are 8 inspiring quotes by India's iconic freedom fighter to fill you with patriotic spirit:
1. "It is blood alone that can pay the price of freedom. Give me blood and I will give you freedom!"
2. "One individual may die for an idea, but that idea will, after his death, incarnate itself in a thousand lives."
3. "I am not at all afraid of the uncertainty of life."
4. "The future is still in my hands."
5. "A true soldier needs both military and spiritual training."
6. "Men, money and materials cannot by themselves bring victory or freedom. We must have the motive-power that will inspire us to brave deeds and heroic exploits."
7. "No real change in history has ever been achieved by discussions."
8. "Soldiers who always remain faithful to their nation, who are always prepared to sacrifice their lives, are invincible."
9. "Nationalism is inspired by the highest ideals of the human race, Satyam [the truth], Shivam [the God], Sundaram [the beautiful]."
10. "Freedom is not given, it is taken."