Thanksgiving 2022: 3 easy Thanksgiving activities you can plan with your kids
Nov 23, 2022 01:34 PM IST
Check out these exciting and enjoyable activities you can plan to celebrate Thanksgiving with your children.
Thanksgiving is just around the corner to mark the beginning of the holiday season. It is always a great day for family bonding, but it can also be challenging to keep the kids entertained while you're waiting for the festivities to begin. Thanksgiving is a hectic time for families, requiring a lot of planning and preparation, whether you are hosting the family dinner or travelling to spend it with family or friends. Thanksgiving crafts are a wonderful opportunity for families to spend time together, encourage creativity, and help kids learn the meaning of the holiday via the visual arts. Take a look at these exciting and enjoyable activities you may prepare to celebrate the festival with your children. (Also read: Happy Thanksgiving 2022: Best wishes, images, messages, greetings, heartwarming quotes to share with family and friends )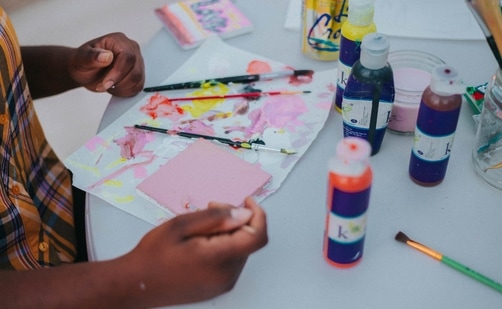 1. Sponge Painted Turkeys
Stay tuned with breaking news on HT Channel on Facebook.
Join Now
Sponge use makes this kid-friendly Thanksgiving activity ideal. The kids like using various tools and materials to paint. It was simple to make these bright and entertaining turkeys.
Material required:
Sponges
Washable paint
Construction/cardstock paper
Googly eyes
Method:
1. Make a turkey face using your construction/cardstock paper and googly eyes.
2. Cut sponges into stripes, so it's easy for the kids to pick up and use to paint.
3. Create some feathers on white paper and cut them out.
4. Dip the sponges into the paint and make prints on the feathers. Let them dry then use a glue stick to glue them to the back of the turkey you created.
2. Thanksgiving Countdown Chain
This Thanksgiving exercise for kids is a great approach to get your kids to reflect on their gratitude. Kids can have fun counting down to Thanksgiving by making a chain.
Material required:
Construction paper
Stapler
Markers
Method:
1. Cut pieces of construction paper into strips. Create 30 strips for the entire month.
2. Discuss with your little one what it means to be thankful for something. You should give examples and talk about why those are important things to be thankful for. Then, have them brainstorm some ideas on their own.
3. Hang this up in your house somewhere and take off a piece of the chain every day to countdown to Thanksgiving. Talk about what was written on the paper for each day.
3. Thanksgiving Bingo
The ideal Thanksgiving game for children and the entire family is bingo. This can also serve as a fantastic vocabulary lesson. Your children may never have seen any of these items before, but playing bingo can introduce them to them.
Material required:
Bingo cards
Candy corn
Pumpkin mini erasers
fall beads
bowl
Method:
1. Print off how many cards you need. In the set, provide 10 different cards with the same objects just in different spots and cut out the playing cards.
2. Have one player pull the cards out of a bowl. They will say what's on the card and show the card to all the players.
3. They will place their game piece on the picture that is called. The object is to get 5 in a row horizontally, vertically or diagonally.
4. Once this happens, they will say BINGO! You can play until the entire card is filled or start back over.