6 healthy alternatives to beat sweet temptations this holiday season
Jan 01, 2023 09:12 AM IST
From coconut milk to raw honey, check out some common healthy replacements that you can consume to beat sweet cravings this holiday season.
Holidays are a great time to spend with family and friends, but there is also a lot of temptation to consume sweets at this time. There is nothing wrong with the occasional treat, but too much sugar can lead to the production of acid, which can damage your teeth. There is no reason to give up all of our traditional sweets completely in order to be healthy. When prepared with quality healthy ingredients, most of our traditional sweets and dessert recipes can readily be consumed as part of a healthy diet. It is important though, to make sure we eat them in moderation and not go overboard. (Also read: Alternate sweet delicacies for your children: Nutritionist shares tips )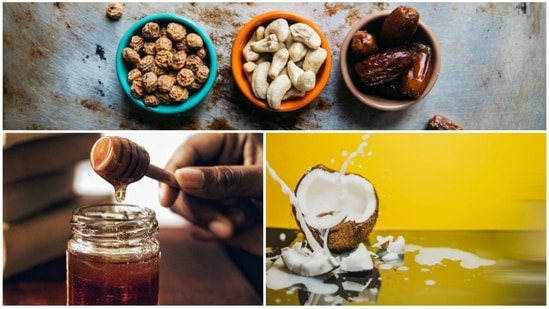 In an interview with HT Lifestyle, Functional Nutritionist Mugdha Pradhan, CEO and Founder, iThrive, suggested some common healthy replacements that you can consume to beat sweet cravings this holiday season.
1. Healthy flours: Healthy flours like coconut flour, ragi flour, and organic oats flour in place of refined flour. Refined flour spikes blood sugar drastically and contains high amounts of gluten, which is very harmful for the gut.
2. Raw honey: Raw honey is a great option that can be used in place of refined sugar. These low glycemic alternatives are great options to provide sweetness without spiking blood sugar too much. Raw honey has many other health benefits as well.
3. Coconut milk: To make your desserts more healthy you can use coconut milk in place of pasteurized store-bought milk, which is highly processed and can be inflammatory and causes digestive disruptions very commonly.
4. Ghee, butter or coconut oil: Use ghee, butter or coconut oil instead of refined seed oils. This is perhaps the most important point. Refined seed oils are highly health-damaging and are the biggest reason for a lot of store-bought sweets being so unhealthy. Traditionally high-fat sweets and desserts such as laddoos, halwa, cakes, ice creams, puddings, etc were all made using ghee, butter, heavy cream, or coconut oil. But businesses now prefer to use refined seed oils since they are very low-cost and profitable.
5. Natural flavours: When it comes to flavours, we can replace industry-made chemical-based flavours and additives with cardamom, cinnamon, saffron, etc. as artificial flavours can be very harmful.
6. Dry fruits: Apart from preparing sweets, we could also just have dry fruits like figs, dates, apricots, raisins, berries, etc as alternatives. There is a wide variety of options among these to choose from and they make for great gifting options as well.
Follow more stories on Facebook & Twitter