Anushka Sharma meditates by the river, hikes with Virat Kohli and Vamika in new pics that will brighten up your morning
Feb 01, 2023 10:26 AM IST
Anushka Sharma posted pictures of herself meditating by the river and going on a hiking trip with Virat Kohli and their daughter, Vamika. Here's why you should add meditation and hiking to your fitness routine.
Actor Anushka Sharma is currently travelling with her husband, Virat Kohli, and daughter, Vamika. The family is spending their time amid the mountains, pristine rivers and lush greenery and sharing snippets with fans on social media. Recently, Anushka shared pictures that showed her meditating by the river and hiking with Virat and Vamika. The posts will brighten your morning and motivate you to include meditation and hiking in your fitness routines. Keep scrolling to find out the benefits of these practices. (Also Read | 'Coolest couple' Anushka Sharma and Virat Kohli's relaxed airport look is the winter uniform you need. See pics, videos)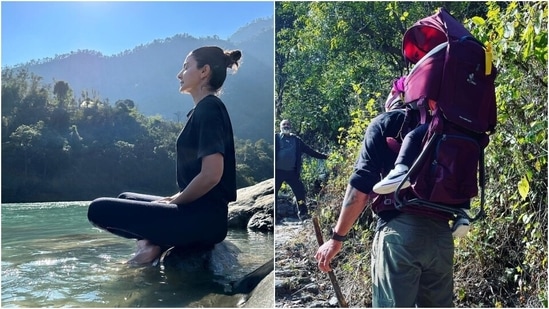 Anushka Sharma meditates and hikes with Virat Kohli and Vamika
On Tuesday, Anushka Sharma dropped a picture of herself meditating while sitting on a rock by the river with the caption, "'Can't you see, it's all perfect!' - Neem Karoli Baba." It shows the actor calmly perched cross-legged on a rock with her feet submerged in the water while soaking up the sun and absorbing the calmness of nature. She also shared several photos from her hiking excursion with Virat Kohli and Vamika and captioned them, "There's a mountain in the mountains and there is no one at the top." Virat also posted a click from the hiking trip on his Instagram page.
Anushka and Virat's posts show the cricketer carrying their daughter on his shoulders while going around the rocky terrain. Anushka also posted stunning pictures of the hilly area, Virat playing with Vamika, river banks, and more. Their photos garnered several likes and comments from fans. One wrote, "You guys are awesome, showing the real and beautiful India to your children." Another commented, "Dad's little princess."
Check out the benefits of hiking and meditation below:
Hiking Benefits:
Hiking is a cardiovascular exercise that benefits your heart health and keeps the other vitals in check. It also builds the muscles in your legs, strengthens your core muscles, decreases the risk of respiratory problems, and enhances balance.
Meditation Benefits:
Meditation helps gain a new perspective in stressful situations, build skills to manage stress, increase self-awareness, focus on the present, reduce negative emotions, increase imagination and creativity, and build patience and tolerance.