Diabetes: 5 daily habits to boost kidney health in people with diabetes
Nov 24, 2022 09:59 PM IST
Diabetes can raise risk of serious kidney complications. Here are some daily habits that could keep your kidneys healthy.
Uncontrolled diabetes can put one at risk of many diseases. High blood sugar can damage blood vessels in kidneys which could affect their function. This serious complication of diabetes that affect kidney's ability to remove waste products and extra fluid from the body is called diabetic nephropathy and if not treated on time can lead to kidney failure. Kidneys are one of the most important organs of the human body that is responsible for maintaining balance inside the body by removing toxins and waste from the blood. In recent years, the incidence of kidney disease is rising all over the world. (Also read: Diabetes: Delicious and healthy winter desserts to manage blood sugar)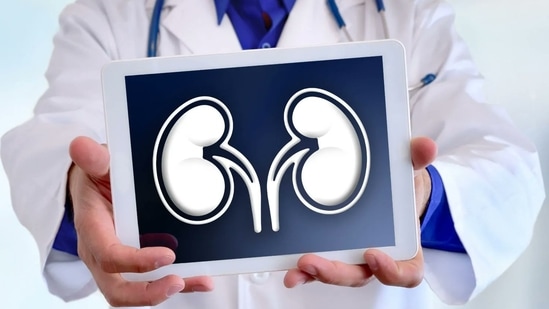 It is estimated that the prevalence of kidney disease is likely to go up by 0.7 to 3% by 2026 in Asia Pacific region. In India, the prevalence of kidney disease (all stages combined) in adults is 17.2%. Kidney disease can further put one at risk of heart attacks, hospitalisations, and death.
"Out of the major causes of kidney diseases, diabetes accounts for almost 42% of all cases. Also, people who suffer from diabetes have up to 40% risk of getting kidney diseases and it can also increase in case of poor blood sugar control. Therefore, it is very important to follow certain habits to combat the risk of kidney disease in diabetics," says Dr. Tarun Jeloka, Consultant - Nephrology and Transplant, Manipal Hospitals, Baner-Pune.
Dr Jeloka shares habits to boost kidney health in people with diabetes.
1. Blood sugar control
Strict blood glucose (BG) control reduces the risk of kidney disease and prevents the progression of existing kidney disease. One should control BG by combination of diet, exercise and medicines. Diabetic patients are advised for periodic home monitoring of BG and try to maintain HBA1c below 7.
2. Blood pressure control
Many diabetics also develop high blood pressure (BP) which increases the risk of kidney disease and good BP control can reduce the risk in diabetics. One should aim to keep BP less than 130/80.
3. Abstain from tobacco
Consumption of tobacco in any form, not only increases the risk of heart disease but also causes kidney disease. It is strongly recommended to avoid it at all costs.
4. Lifestyle modifications
Regular exercise, low salt intake (<2 g/day) and weight management with right body mass index can help in reducing the risk of kidney diseases among diabetics. Also, low protein intake in case of existing kidney disease and avoiding junk foods are also recommended.
5. Medicines
Besides the above measures, all diabetic patients should be offered two groups of medicines, which have been proven to help prevent or manage kidney disease, unless contraindicated – RAAS blockers and SGLT2 inhibitors.
Follow more stories on Facebook & Twitter