Diabetes rising among children. Here's what can be done to reduce the risk
Updated on Nov 27, 2022 05:48 PM IST
In India especially, poor lifestyle choices and unhealthy eating habits are surging diabetes among children. The Diabetes Atlas reported that 1,28,500 Indian adolescents had diabetes from which 97,700 were children. Here's what can be done to reduce the risk of diabetes in children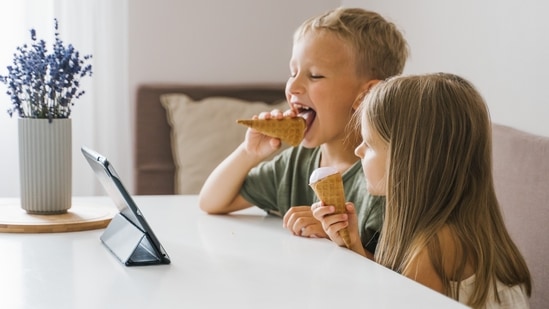 The fast-paced technological environment has its share of pros and cons where changes in standard of living have induced rising incidences of non-communicable diseases where in India especially, poor lifestyle choices and unhealthy eating habits are surging diabetes among children. The Diabetes Atlas reported that 1,28,500 Indian adolescents had diabetes from which 97,700 were children while the WHO in December 2021 said over 95% of Indians are either battling with or are prone to diabetes.
In an interview with HT Lifestyle, Dr Sukrit Kumar, Director - Medical at Loop, assured, "Type 2 diabetes is on the rise among kids but parents can stop it by arming themselves with knowledge. Nowadays, one-third of urban children are overweight, particularly their bellies, which contribute to insulin resistance, a significant modifiable risk factor for T2 Diabetes." He revealed some must-know facts for prevention of type 2 diabetes in children:
Teaching the child the importance of healthy eating, avoiding junk food, engaging in healthy snacking, avoiding screens while eating, drinking more water, consuming more fruits and green vegetables, eating slowly, going food shopping with them on a full stomach, having family meals together, serving small portions and celebrating healthy food are all important.
Encourage your child to engage in regular physical activity for at least 60 minutes each day, start slow and build up, attend fitness classes together, encourage your kids to choose a sport, have exercise equipments at home, involve kids in house chores and maintain good sleep hygiene.
Focus on mental well-being and help them manage the stress of studies and peer pressure.
Also, parents should take their kids to the pediatrician for routine preventative checkups and diabetes testing.
Saurav Kasera, Co-Founder of CLIRNET, recommended these effective ways to reduce the risk of diabetes in children:
Following a balanced diet
Maintaining a regular exercise regime
Adhering to proper hygiene standards
Regular checkup of blood sugar levels
Weight loss (in cases of obesity)
He advised parents to look out for these symptoms for early detection of diabetes among children:
Frequent urination and bladder infection
Slow healing of infections, wounds
Fatigue accompanied by blurred vision
Excessive thirst
High levels of glucose in the urine and blood
Tingling in the hands and feet
Nausea and vomiting accompanied by moodiness