How to stay active in winter
Feb 02, 2023 06:19 PM IST
As the winter months approach, it can be all too easy to fall into a sedentary lifestyle. The days are shorter, the weather is colder, and the temptation to curl up on the couch with a warm blanket and hot cocoa is all too real
As the winter months approach, it can be all too easy to fall into a sedentary lifestyle. The days are shorter, the weather is colder, and the temptation to curl up on the couch with a warm blanket and hot cocoa is all too real. But staying active during the winter is crucial for maintaining good physical and mental health. Not only does regular exercise help to boost energy levels, but it also helps to combat the winter blues and improve overall mood. But with the challenges that the winter presents, how can you stay active and motivated? Whether you're a seasoned athlete or a complete beginner, these tips will help you find ways to stay active and beat the winter blues. So, grab your coat, and let's get moving!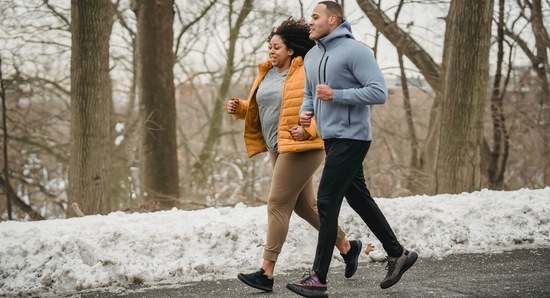 Set a goal: Setting a goal for yourself, such as exercising a certain number of times per week or training for a winter race, can help motivate you to stay active.
Get outdoors: Even though it's cold outside, getting fresh air and sunlight can be invigorating and help boost your mood. Bundle up and go for a walk, hike, or run.
Join a winter sports team: Joining a winter sports team is a great way to stay active and socialize at the same time. Whether it's a recreational hockey league or a ski club, participating in team sports can help keep you motivated and accountable to others.
Indoor exercise: If you can't stand the cold, there are plenty of indoor exercise options to choose from. Gyms, yoga studios, and dance classes are great options, or you could try at-home workout programs or streaming classes.
Try something new: The winter is a great time to try a new activity. Ice skating, cross-country skiing, or snowshoeing are all fun ways to stay active in the winter.
Take up a hobby: Winter is a perfect time to take up a hobby that keeps you active. Knitting, woodworking, and painting are all hobbies that can be done while sitting but still keep you active.
Make it a family affair: Encourage your family to stay active with you. Go for a walk after dinner, play a game of indoor tag, or have a snowball fight together.
Keep warm: Dress in layers, wear insulated boots and gloves, and protect your head and ears from the cold to stay warm.
Be mindful of your diet: Eating a healthy diet can help keep you feeling energized and motivated to stay active. Try to eat a diet that is rich in fruits, vegetables, and whole grains, and avoid processed foods and sugary drinks.
Get enough sleep: Aim for at least 7-8 hours of sleep per night to help keep your energy levels up and your mind sharp.