India: How Goa succeeded in eliminating rabies
Feb 02, 2023 06:09 PM IST
Goa has become the first state in India to eliminate rabies in humans, with no cases since 2018. DW examines what Goa has done right and whether its program could be rolled out across India.
Rabies is a zoonotic disease which has no known cure, and the highest case fatality rate of any infectious disease. The majority of cases in humans occur after being bitten by a rabid dog. Worldwide, the disease kills around 59,000 people every year, with over one third of those deaths in India.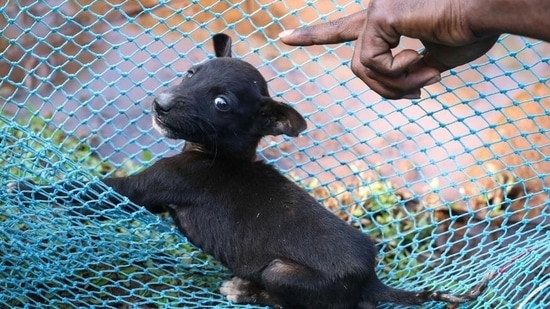 In October 2021, India launched a new national action plan to end rabies deaths by 2030, in line with a global goal announced by the World Health Organization (WHO) in 2018.
The plan emphasizes a "one health" approach to disease control in which animal, environmental and human health are considered in tandem — meaning that the control of rabies in dog populations is essential for the successful elimination of the disease in humans.
Rabies experts agree that vaccinating 70% of dogs in a community would result in herd immunity, which would prevent the disease from circulating.
Although the science is clear, there has been widespread skepticism that countries with high numbers of street dogs — such as India — would be able to achieve a 70% vaccination rate. The campaign in Goa is the first to prove that state-level disease elimination is possible.
The reasons for Goa's success
The project, led by the NGO Mission Rabies, began in 2014 and has since received backing from the state government, as well as global recognition for its success.
Mission Rabies was initially founded as an initiative of the United Kingdom-based non-profit Worldwide Veterinary Service, and aims to reduce human deaths from dog-transmitted rabies.
Dr. Murugan Appupillai, the Director of Education at Mission Rabies, attributes the success in Goa in part to the receptiveness of the state government to the campaign.
"Collaboration with the government is very important to move forward in India," he said.
He believes that Goa's success proves that country-wide elimination of the disease in humans is possible, with consistent support and funding from the government.
"If the political will is there, we could take a very short time to eliminate it," Appupillai added.
Vaccination campaign
The NGO's approach consists of remote teams of dog vaccinators, who systematically work their way through towns and villages vaccinating dogs.
This involves catching street dogs in large nets, before vaccinating them and marking them in non-toxic green paint, and then releasing them again.
Their progress is recorded in a smartphone app, which collects data on dog sightings, geographical areas covered by the team, and the details of the vaccinated dogs.
According to a study in the science journal Nature, a 70% dog vaccination coverage rate was achieved for the first time in 2017 using this method, with 97,277 dogs out of an estimated total population of 137,353 dogs vaccinated.
The study also noted that the project was "very cost effective", not only saving the state government money on healthcare-associated costs, but also reducing economic loss from death: an estimated 2,249 disability-adjusted life years (DALYs) were averted during the program period, at $526 (€478) per DALY.
Educating the public
As well as vaccinating dogs, the methodology emphasizes ramping up disease awareness in society, such as running education programs in schools across Goa.
Children are taught how to avoid dog bites, as well as what to do if bitten. Currently, many rabies deaths occur due to incorrect post-bite treatment.
The WHO recommends that the wound site is thoroughly washed and that the victim is vaccinated within 24 hours, in order to prevent the virus from taking hold. Around 30%-60% of all rabies victims in India are children under 15.
Education is also important in order to ensure the success of vaccination efforts however, said Dr. Appupillai.
"Awareness creation is very, very important to move forward, especially in diseases like rabies, because it involves human support in a big way," he said, explaining that the participation of locals is often vital in helping remote vaccinator teams to find community dogs and vaccinate pets.
National action
A greater awareness of the dangers of the disease can also help to push for increased political action, said Dr. Appupillai — something which he believes has been lacking at national level to date, due to the disease affecting predominantly poor, rural communities.
"Unless there is a public pressure, the government doesn't work in India", he said.
That is something that is gradually changing across the country however, with huge pressure on the government to take action against rabies in states such as Kerala, where a series of high-profile cases in children recently led to widespread outrage.
The state government now plans to partner with Mission Rabies to replicate the Goa program.
Dr. Appupillai is confident that the same methodology can be successfully applied in other states, with the goal of eventually achieving country-wide elimination of human rabies.
"Definitely it will be successful. We have done it already, and we made it successful," he said.
Edited by: Keith Walker