Measles outbreak: Important vaccines your child must get for protection from deadly diseases
Published on Nov 24, 2022 04:17 PM IST
The present outbreak of measles in and around surrounding areas of Mumbai has killed 12 children so far. Vaccination plays an important role in protection against deadly diseases. Here's a list of important vaccines your child must get.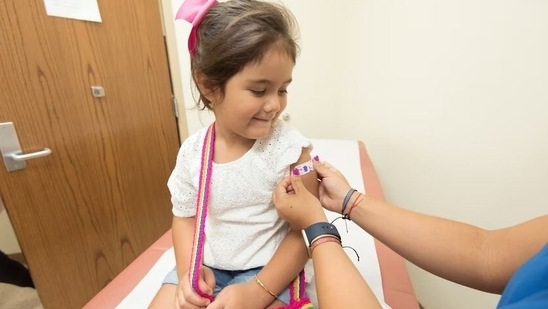 An eight-month-old, who was partially vaccinated, died on Wednesday after getting infected with measles. A day before, a one-year-old child from Nalasopara had died due to the viral infection at Mumbai's Kasturba Hospital. The present outbreak of measles in and around surrounding areas of Mumbai has killed 12 children so far. Also called rubeola, measles is caused by a virus that can spread easily when the infected person coughs or sneezes and even be fatal for small children. (Also read: Measles outbreak in Mumbai: Warning signs, treatment, deadly complications of measles in children)
The signs and symptoms of measles include fever, dry cough, sore throat, runny nose, conjunctivitis, rash and appear around 10-14 days after exposure. There is no cure for measles and kids in the age group of 9-16 years vaccinated against the disease.
Measles, however can be prevented with MMR vaccine which protects against measles, mumps, and rubella. It is recommended for children to get two doses of MMR vaccine. The first dose at 12 through 15 months of age, and the second dose at 4 through 6 years of age. Teens and adults must also be up to date on their MMR vaccination.
Vaccinations can play an important role in preventing children from deadly diseases. Dr Shreya Dubey, Department of Paediatrics, The CK Birla Hospital (R), Gurugram on some of the most important vaccines that a child must get.
MOST IMPORTANT VACCINES FOR CHILDREN
• BCG for tuberculosis which is given at the time of birth.
• A combination vaccine also known as six in one vaccine works against Diphtheria, whooping cough, tetanus, hepatitis B, Haemophilus influenza vaccine, and polio. These vaccines are very important and are given at six weeks, ten weeks, and fourteen weeks of life. Booster doses are given at fifteen months and at 5 years of age.
• The measles, mumps, and rubella vaccine are given at nine months, and fifteen months. The booster shot is given at five years of age.
• Pneumococcal vaccination is easily available in private and public hospitals.
• Rotavirus vaccination against rotavirus diarrhoea is also easily accessible.
• Additional vaccinations for further protection are given against diseases like chicken pox, Hepatitis A, and typhoid.
Follow more stories on Facebook & Twitter
Topics