Sonam Kapoor amazes with weight loss; Healthy ways to shed post pregnancy weight
Updated on Nov 27, 2022 12:37 PM IST
Sonam Kapoor wowed everyone with her post-pregnancy weight loss. It is not easy for new mothers to get back to their fitness routines. An expert suggests slow and steady routine to lose weight after pregnancy.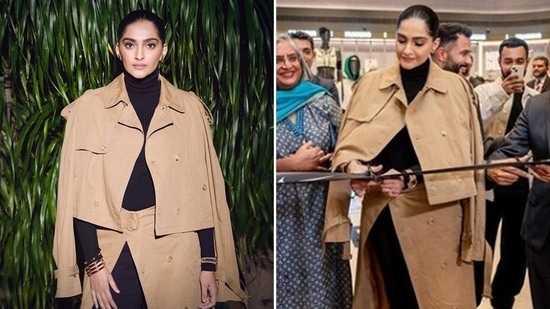 Sonam Kapoor wowed everyone with her post-pregnancy weight loss. It is not easy for new mothers to get back to their fitness routines. An expert suggests slow and steady routine to lose weight after pregnancy. (Also read: Sonam Kapoor's weight loss just '3 months' after son Vayu's birth blows Anand Ahuja's mind)
New mom Sonam Kapoor looked ravishing during an event at Delhi and surprised everyone with her impressive weight loss merely 3 months after giving birth to son Vayu. Husband Anand Ahuja posted the transformation picture on his page and went gaga over his wife's fitness journey. Sonam's Pilates routine is said to have contributed majorly in shedding pregnancy kilos. It is not easy for new mothers to get back to their fitness routines. Experts say it's best to go slow and steady with weight loss post pregnancy.
"The birth of a child gives birth to a mother. It is a mixed feeling; excitement about this new role you are still learning, anxiousness about being able to be the best parent to the child and of course new moms want to get back into shape almost soon after child birth. But here is what I insist as a nutritionist and a mother of two 'it's not just about losing weight but it's important that you get back on the right health'," says Avantii Deshpaande, Gut health expert and nutritionist.
Avantii says pregnancy challenges the body both physically and emotionally and human bodies have a beautiful mechanism of making the body ready for carrying and nurturing the life inside. This can also cause weight gain in specific parts of the body.
"This includes increase in the body fat especially in the breast and the pelvic region, increase in the fluid levels in the body and changes in the metabolism. It is best to go slow and steady with the weight loss post pregnancy," says the nutritionist.
Avantii also suggests healthy ways to lose weight post pregnancy:
1. Plan for a healthy pregnancy beforehand: The journey of motherhood should be well planned. I have seen several women visiting my clinic with their partners to plan for a healthy pregnancy. The question is how much in advance should the pregnancy planning start? Usually, three months ahead of the pregnancy would be good start. During this time, you can get the medical checkup done along with body composition. This will help us know the status and work towards losing weight in a heathy way if required.
A lot of women make this mistake of trying to get fit after they announce pregnancy. This gives limited scope to the kind of workout that can be possible or the food one can eat. So always plan ahead in time so that you can achieve your health goal, which often makes conception easier.
2. Practice mindful eating during pregnancy: Nausea, food cravings, purging, acidity, bloating etc is very common during pregnancy. Keeping this in mind too mindful food choices can be planned. Appetite suddenly increases especially in the second trimester and women make this mistake of having uncalculated food to fill them up. It would make sense to still be in the window of eating by the healthy plate and occasionally giving in to your cravings.
Focus on having home cooked meals with calories which should not exceed than your requirement and focusing more of fibre-rich fruits and vegetables with protein-rich foods like dals, nuts and seeds, curd etc.
3. Light to moderate workouts post pregnancy: Post-delivery new moms make this mistake of starting workouts too early. Pregnancy and delivery cause trauma to the body making the muscles and the bones weak. So immediately post-delivery do not start workouts. First it would make sense to do some light yoga or physiotherapy exercises to reduce stiffness and improve flexibility. This can be done for the first two weeks and then slowly increase the intensity. By 3 months new moms can start full active workouts as before. Do not over exercise as it will affect the quality of the breast milk due to over lactic acid production
4. Exclusive breastfeeding: Breastfeeding has numerous benefits both to the child and the new moms. It provides the right nourishment, increases the bond between the two and of course the best advantage to new moms is that it will help to get back into shape quickly. So, make sure you exclusively feed your baby until 6 months.
5. Do not follow fad diets so quick results: There are two extremities that I have seen. Some new moms are fed extra ghee and laddoo as it is believed that it will nourish the child, and the other one is where women stop eating well even if they are breastfeeding in order to lose weight. The calorie and the protein requirement are higher in new moms as compared to normal adult women, so focus on eating home-cooked food which has all the food groups in the right amounts, and this will have an allowance for ghee and laddoo too.
"Instead of cutting calories change the food groups like higher protein and fibre in meals rather than just roti and sabji. Replacing certain high fat foods with low fat ones also works for example using low fat curd or milk in place of full fat milk. Give your body at least first 1 month to recover, taking the right diet, light to moderate exercise and supplements as recommended and then you will see that getting into shape Is much easy," concludes Avantii.